CAP Model



Mobilizing Commitment
Doel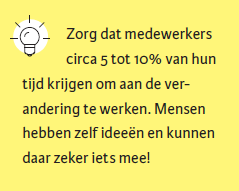 Alle bij de verandering betrokken medewerkers geven een sterke 'commitment' af om in deze verandering te willen investeren. In woorden en in daden.
In het kort
Idealiter hebben alle bij de verandering betrokken medewerkers de oprechte wens dat de verandering slaagt. En dat zij er een succes van willen maken. Daarvoor mogen ze eisen dat ze concrete aandacht van het management krijgen. En elkaar aanspreken op gewenst gedrag.
Toelichting
Genoeg goede medewerkers zijn akkoord dat zij hun eigen acties en gedrag veranderen om zo de verandering te ondersteunen. Het is van cruciaal belang om alle belanghebbenden goed te begrijpen, en te betrekken om de verandering te doen realiseren.
Aanpak
•Identificeer alle stakeholders, hun huidige betrokkenheid bij de verandering en de mate waarin zij zich op dit moment aan de verandering hebben gecommitteerd
• Identificeer en begrijp de cultuur, de bronnen, de achtergronden en de grondoorzaken van mogelijke weerstand en label deze
• Voer een Stakeholder Analysis for Change uit
• Bepaal een strategie om met de gedefinieerde weerstand om te gaan
Synoniem en/of alternatief
In het werk van Kotter komt een soortgelijke succescriterium naar voren. Naast een Stakeholderanalyse of veranderbord (change board), kun je ook met de SA-Index©, een Technical-Political-Cultural-Analysis, een Force Field Analysis of de klassieke agendacheck (Time Audit) beoordelen of voldoende toppers in actie komen.
Voorbeeld
Hierna zie je een voorbeeld van een stakeholderanalyse. Hoe meer naar rechts, hoe meer stakeholders geïnteresseerd zijn om mee te werken aan de verandering. Hoe meer omhoog, hoe meer invloed een stakeholder heeft op de verandering. En hoe groter de bol, hoe meer impact de verandering heeft op de stakeholder zelf.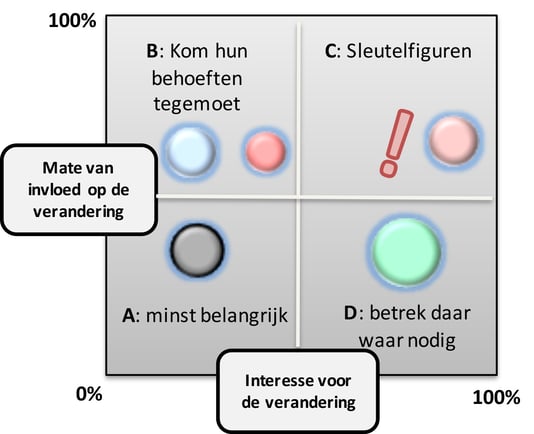 Kwadrant A: de minst belangrijke stakeholders. Houd ze op de hoogte via communicatie zoals nieuwsbrieven. Zo verschuiven ze misschien naar Kwadrant D.
Kwadrant B: invloedrijke stakeholders die je echt naar kwadrant C wilt. Verdiep je in hun interesses en belangen. Probeer uit te vinden waar de te implementeren verandering aansluit op hun interesses en belangen. Als ze hun belang herkennen, komen ze in beweging.

Kwadrant C: de sleutelfiguren. Consulteer ze regelmatig. Betrek ze ook bij de beslisorganen en vraag hen een ambassadeursrol in te willen nemen voor de te realiseren verandering.
Kwadrant D: uitstekende ambassadeurs. Maak gebruik van hun interesse door hen op de kleinere doelen van het project in te zetten: die zullen ze zeker graag realiseren.
Maak hierna een actielijst waarin je helder definieert wie zich op welke stakeholder focust, en hoe vaak en per wanneer je hier resultaat van verwacht. Voer de stakeholderanalyse gedurende het verandertraject vaker uit en presenteer die in sommige situaties ook zeker aan een stuurgroep.