CAP Model



Monitoring Progress
Doel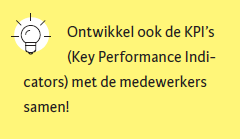 Het monitoren van de voortgang van de verandering
In het kort
Facts and figures maken de verandering 'echt'. Welke indicatoren hebben invloed, in welke mate en in welk tempo?
Toelichting
Om de verandering goed te kunnen monitoren, moet je de juiste key performance indicators ontwikkelen en opstellen. Je moet ze wel real time updaten om zo ook het nemen van verantwoordelijkheid voor de verandering te ondersteunen.
Aanpak
• Bepaal hoe je de voortgang en het resultaat specifiek kunt meten en weergeven en zorg niet alleen voor verticaal gecascadeerde KPI's, maar ook voor horizontale keten KPI's
• Maak managers bewust van het verschil tussen KPI's en PI's. Wat is Key?
• Betrek ook managers die geen deel uitmaken van het verandertraject en help hen de relevantie van hun KPI's uit te leggen aan de change agents
• Motiveer change agents om ook kwalitatieve verbeteringen in kaart te brengen zoals succesverhalen, voorbeelden van persoonlijke groei en passend leiderschap zodat je ook die kunt delen
• Communiceer de effecten van verandering helder in gewone mensentaal: vermijd enorme powerpointdocumenten met veel managementtaal, vakjargon en verhullend taalgebruik.
Synoniem en/of alternatief
Dit wordt ook wel dashboardbeheer genoemd. Binnen Lean wordt Visual Management gebruikt om dit deel op niveau te brengen. Ook kun je hier de X-matrix en de OGSM Metrics gebruiken, of wat aan monitoring operationeel is.
Op projectniveau zoals in een DMAIC, is de zogeheten 'nulmeting' en het vergelijken met de 'nameting' (procesprestaties) evident als het gaat om monitorinig. terugkomt op zijn eigen afdeling?
Voorbeeld
Kritieke Prestatie Indicatoren of Key Performance Indicators (KPI's) zoals je hiernaast ziet, voeden managers en medewerkers dagelijks met resultaten op het vlak van behaalde omzet, kosten, kwaliteit, fouten, winst, et cetera.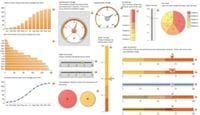 Erg krachtig en relevant is het ontwikkelen van keten-KPI's (horizontaal). Vaak zijn KPI's namelijk verticaal ingericht. Dat wil zeggen dat een afdeling alleen op de eigen prestatie beoordeeld wordt.
Neem bijvoorbeeld een ziekenhuis. Zodra een patiënt aan de beurt is bij de EHBO wordt hij keurig en snel geholpen: binnen vijf minuten zit hij weer op de gang een vervolgafspraak voor de gipsafdeling. Ook op de gipsafdeling wordt de patiënt keurig en snel geholpen en binnen vijf minuten zit hij of zij weer op de gang. Beide afdelingen halen keurig hun doelen. Alleen zit de patiënt tussendoor 40 minuten op de gang en voelen geen van beide afdelingen zich daar verantwoordelijk voor.
Een keten-KPI, ofwel een horizontale KPI, is bijvoorbeeld: de totale tijd dat de patiënt in het ziekenhuis aanwezig is. Vervolgens worden alle afdelingen in de keten hier verantwoordelijk voor gesteld. Alleen zo zullen zowel de EHBO als de gipskamer zich verantwoordelijk gaan voelen voor de wachttijd van de patiënt.