CAP Model



Shaping a vision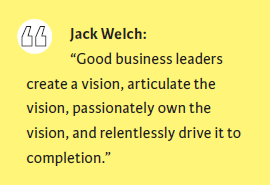 Doel
Zeer duidelijk en helder maken wat er na de verandering zal zijn gerealiseerd.
In het kort
Een goede visie raakt het hart, klopt ook rationeel, schetst zeer duidelijk en concreet hoe de toekomstige situatie er uit zal gaan zien, en is door iedereen te begrijpen.
Toelichting
Iedere stakeholder begrijpt het verwachte eindresultaat en staat hier ook helemaal achter. Ook het gedrag dat we in de vernieuwde situatie verwachten is helder gedefinieerd en wordt in de gehele breedte van de organisatie gedragen.
Begrippen als visie en missie worden soms per boek anders uitgelegd. Bedenk dat je, om effectief te zijn, de visie trapsgewijs vertaalt of inregelt op onderliggende afdelingen.
Aanpak
• Verzamel zoveel mogelijk individuele input, cluster die en breng samen in een gezamenlijke visie. Zo bereik je dat de visie met doel(en) breed gedragen wordt, en er overeenstemming bestaat over werkwijze om doel(en) te realiseren
• Vraag reacties op de visie bij medewerkers, klanten en leveranciers. Pas zo nodig aan
• Bepaal de te nemen acties, welke competenties dit vereist en wat voor gedrag 'past'
• Borg dat de visie aansluit bij (gewenste) kernwaarden en gedragingen van de organisatie. Gebruik bijvoorbeeld de Bull's Eye Chart Excercise om te toetsen dat de visie aansluit bij deze waarden en gedragingen van de organisatie
• Hanteer een cascadering van de visie op elk niveau in de organisatie, zoals met de Hoshin Kanri of een OGSM. Dit heet ook wel Strategy Deployment. Het doel is dat iedereen in de organisatie acties kan koppelen of toetsen aan de visie (nastreven)
• Borg de visie door deze volledig terug te laten komen in de dagelijkse acties en het dagelijks gedrag van iedere werknemer
Synoniem en/of alternatief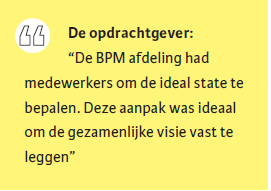 Denk ook aan tools als More of/Less of, Elevator Speeches en klantenfeedback om te toetsen of de visie 'goed voelt' of aanslaat.
Voorbeeld
Bij een verzekeraar wilde men een visie vormen van de ideal state van het proces Facturatie en Aanmaningen. Om tot een gedeelde visie te komen, leidden we de groep door de volgende stappen: