Project Charter


Formele 'handdruk'
Doel
•Duidelijke communicatie tussen opdrachtgever, -nemer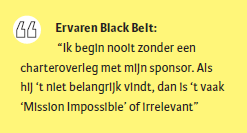 en teamleden onderling (verduidelijking over wat, hoe en waarom van het project)
• Toetsen of een DMAIC-project nuttig genoeg is om ermee te beginnen
In het kort
Een afgetekend Project Charter is letterlijk een goedgekeurde DMAIC-opdracht op één A4.
Toelichting
Het Project Charter is een contract tussen opdrachtgever en –nemer: een communicatiedocument dat sponsor en projectleider bij aanvang overeenkomen. Het Project Charter dient als referentie gedurende het hele project. Het is altijd bondig en SMART geformuleerd. In het Project Charter staat in principe geen gevalideerde oplossing of detailplanning. DMAIC, weet je nog? Eerst diagnose, dan de oplossing.
Leren opstellen van een Project Charter? Klik dan hier en schrijf je nu in voor de Green Belt training
Aanpak
Een Project Charter bestaat uit minimaal 6 onderdelen:
• Een probleemomschrijving (aanleiding of probleemomschrijving in enkele zinnen)
• Een specifieke, meetbare doelstelling of eindresultaat (liefst niet meer dan 2)
• Een goed omrande project- en procesafbakening
• Een Business Case (harde en zachte baten)
• Een planning op hoofdlijnen per DMAIC fase
• De teamsamenstelling (wie helpt mee voor hoeveel uur per week of FTE %)
Vaak zijn ook projectrisico's verwerkt en andere, meer organisatiespecifieke onderdelen.
Synoniem en/of alternatief
Soms kom je synoniemen als 'initiatiefbrief', Improvement Charter of 'projectopdracht' tegen, of het gerelateerde Team Charter. Een Project Charter is iets anders dan een zogenaamde A3 of een PID-formulier (zie Prince2).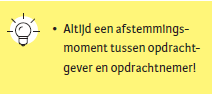 Duur
Je hebt voor het eerste concept van een Charter al gauw een uur nodig.
Geïnteresseerd in het opstellen van een Project Charter? Klik dan hier en schrijf je in voor een van onze trainingen
Voorbeeld template
Onderstaand is een voorbeeld van een ingevulde Project Charter voor een gemeente in Nederland. Doel is om de doorlooptijd van het verwerken van bouwvergunningen te versnellen.