Spreidingsmaten


Inzicht in Spreiding
Doel
•Inzicht krijgen in de variatie die klanten ervaren
• Begrijpen hoe je spreiding kunt kwantificeren – op verschillende wijzen
In het kort
Spreidingsmaten zijn statistische kengetallen die iets zeggen over de variatie van een indicator. Ofwel in hoeverre alle waarden nabij centrumwaarden staan (of juist niet).
Toelichting
Voor de spreidingsmaat gebruikt men vaak de ('standaard') standaardafwijking. In de praktijk is deze maat echter niet altijd aan te bevelen, bijvoorbeeld omdat data discreet zijn. Of niet normaal verdeeld. Of omdat medewerkers deze maat complex vinden. Of omdat trends in de dataset er in mee worden genomen, terwijl je eventuele trends juist wilt identificeren (zoals bij Control Charts). Statistici hebben derhalve diverse spreidingsmaten gedefinieerd.
Aanpak
• Verzamel data van de relevante grootheid of indicator
• Kwantificeer de variatie (meestal met software)
Synoniem en/of alternatief
Spreiding wordt ook wel variatie genoemd. In het Engels: variation. Breder gezien vallen spreidingsmaten onder kengetallen of 'beschrijvende statistieken' (descriptive statistics).
Variatiematen worden in procesverbetering vaak ingezet om te toetsen of klanteisen gehaald worden. Een afgeleide maat hiervoor is bijvoorbeeld de gedefinieerde term Six Sigma, of Cp.
Duur
Met de computer bereken je deze spreidingsmaten in (fracties van) een seconde.
Maten om spreiding weer te geven

Voorbeeld
Statistici hebben diverse spreidingsmaten gedefinieerd. In de tabel hierna zie je de meest voorkomende spreidingsmaten.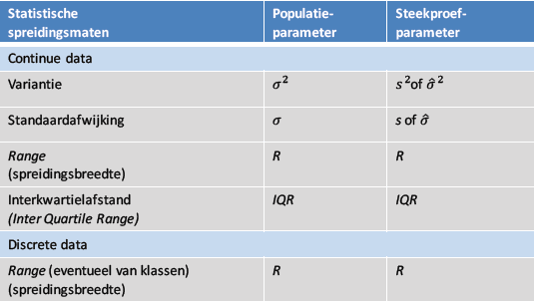 Variantie
Standaardafwijking
Range
IQR