Doel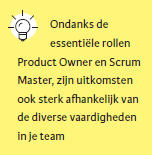 Nieuw en werkend (software)onderdeel opleveren per Scrum Sprint.
In het kort
Scrum is een Agile-ontwikkelmethode, ontwikkeld om het mislukken van kostbare ICT-projecten te voorkomen. De term Scrum is ontleend aan de sport rugby en benadrukt de wendbaarheid van het uitvoerende team.
Toelichting
In een baanbrekend artikel uit 1986 (HBR, Takeuchi en Nonaka) werd de term 'Scrum' geïntroduceerd bij het ontwerpen. Basisprincipe: beter succes boeken met kleine stapjes, dan veel werk verrichten om er dan uiteindelijk achter te komen dat het niet werkt. Hoewel beroemd binnen ICT-innovaties, is Scrum ook voor andere ontwikkeltrajecten bruikbaar. Het project wordt opgedeeld in korte ontwikkelfasen (de zogeheten Scrumsprints). Ook in de sprint zelf wordt werk zoveel mogelijk opgedeeld in 'klusjes' of taken van twee tot vier uur.

Typische tools binnen Agile voor het bepalen van klanteisen (requirements) zijn user stories en use cases. Voor de zelforganiserende teams gedurende de sprint zijn onder andere de staande teamsessies (de stand-up), het Scrumbord en de feedback erbij van belang.
Meer te weten komen over Agile (Scrum)? Klik dan hier en schrijf je in voor de Green Belt training.
Aanpak
• De drie rollen: stel het totale Scrumteam samen (Development Team, Product Owner en Scrum Master). Zet behalve inhoudelijke experts, zoals designers, testers et cetera, ook een rol bij als gebruiker/klant en opdrachtgever (de Product Owner). Stel ook een zogeheten Scrum Master aan die het proces begeleidt
• Twee lijsten: (1) Een werkvoorraad eisen (de Product Backlog van de Product Owner) en (2) Een deel ervan wordt als werkvoorraad taken/items opgepakt in een sprint (Sprint Backlog). Definieer hierbij ook de definition of done per item
• Het team is zelf verantwoordelijk voor planning, werkverdeling en voortgangsbewaking. Acties worden op een Scrumbord vastgelegd. Elk teamlid is verantwoordelijk voor de eigen planning en resultaten. Professionaliteit is vereist
• Vier meetings: (1) Sprint Planning, (2) Het Scrumteam komt dagelijks bijeen voor een staande vergadering, de stand-up. Hierbij gaat elk teamlid kort in op drie vragen: Wat heb je sinds de vorige stand-up bereikt? Wat denk je morgen bereikt te hebben? En: Heb je een hulpvraag? (3) Houd aan het eind van elke sprint een demo met belanghebbenden/eindgebruikers. (4) De Sprint Retrospective: evalueer als team, leg herijkte klantprioriteiten vast, zodat volgende sprints nóg beter worden
Duur
Een Scrumsprint duurt maximaal vier weken. Organisaties hebben een vaste ritmiek, niet alleen in de sprint zelf, maar ook wanneer welke sprints plaatsvinden.
Synoniem en/of alternatief
De Agile-aanpak Scrum noemen sommigen Lean IT Development. Los van het feit dat principes van Agile nogal Lean aandoen (pionier Jeff Sunderland geeft zelf ook de invloed van Toyota aan), komen er letterlijk typische Lean-tools in voor. Een Scrum board bijvoorbeeld heette vroeger – en buiten de ICT nog steeds – een kanban board; al heel lang standaard binnen Lean. Alternatief is de zeer breed inzetbare Lean Startup ontwikkelmethode BML.
Voorbeeld
Vaak lever je aan het einde van een Scrumsprint een werkend deelproduct op, zoals een nieuwe feature (functionaliteit). Deze komt uit de werkvoorraad van klanteisen. Dit wordt dan in taken opgedeeld voor de aankomende sprint binnen 28 dagen. Daarna is de feature klaar in een (toekomstig) softwarepakket.
Een aangepaste, beroemde schematisatie van dit Scrumproces is in de volgende figuur geplaatst.