Doel
•Discrete data in frequenties weergeven (ook in optellende percentages)
In het kort
Een staafdiagram is een algemene term voor grafieken zoals een Paretodiagram. Het is een afbeelding van discrete waarden, die in zogenoemde staven is weergegeven.
Toelichting
Sommen of totalen geef je visueel vaak weer in een staafdiagram. Idee is om opvallende zaken grafisch af te lezen (een grafiek zegt meer dan duizend datapunten…).
Aanpak
• Verzamel individuele data (liefst n > 100), maar gesommeerde data kan ook
• De sommen of totalen (linker-Y-as) orden je in staven van links naar rechts. Dit kan qua grootte (Paretodiagram), maar ook in de tijd of per andersoortige categorie
• Ook kun je per categorie opeenstapelingen hebben, zoals de totale omzetten per jaar, per type, dienst of product. Dit heet ook wel een stacked bar chart, wat iets anders is dan stacked data (zie eerder in dit hoofdstuk)!
• Stel de gewenste staafdiagram op, idealiter in software waar je (snel) mee kunt werken
Synoniem en/of alternatief
In het Engels: Bar Chart. Er zijn ongelofelijk veel alternatieven op dit gebied. Denk aan de vele opties in Excel, maar ook in vele andersoortige software, zoals Minitab, SPSS,. Ook kan een taartdiagram een prima alternatief zijn. Zie de meetfase voor meer informatie over taartdiagrammen (DMAIC: Measure/grafieken).
Duur
Met software is het vaak in enkele seconden tot minuten (te maken, mits je er enige ervaring mee hebt).
Meer te weten komen? Klik dan hier en schrijf je in voor de Green Belt training.
Voorbeeld
Hieronder zijn enke0e voorbeelden van staafdiagrammen weergegeven met behulp van Minitab (in het Engels). Tevens een testvraagje erbij.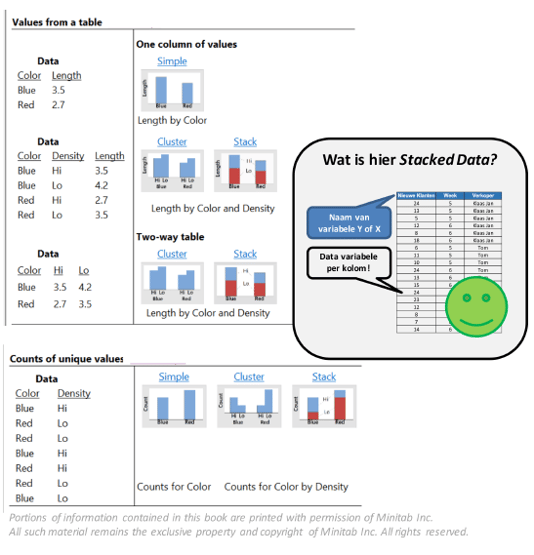 Staafdiagram (Paretodiagram)
Voorbeeld
Hierna vind je een voorbeeld van een Paretodiagram in een verbeterproject. Doel was om in een loods een groot aantal interne fouten te reduceren, en specifiek de zogeheten pickfouten (fouten die ontstaan bij het ophalen van gewenste materialen uit vele stellingen). Mede naar aanleiding van een visgraat workshop, werd deze Pareto-analyse opgesteld. In deze workshop zaten enkele 'order pickers', die met oorzaken kwamen. Een genoemde oorzaak was dat pickfouten met name achterin de loods werden gemaakt. Daar waar Ruud onder andere veel werkte. Het bleek toch wel foutgevoelig om informatie deels op een groot opgehangen scherm te plaatsen, en dit op grotere afstand goed af te lezen.