Doel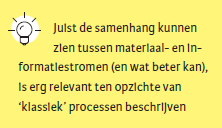 • Identificeer waar precies in het proces welke verspilling optreedt inzake tijd, materiaal en informatie
• Identificeer het verbeterpotentieel ten behoeve van doorlooptijdreductie
In het kort
Value Stream Mapping is een van de belangrijkste onderzoeksmethoden binnen Lean Six Sigma. Je brengt er duidelijk mee in beeld in welke fase het proces waarde toevoegt en waar inefficiëntie optreedt door verspilling van tijd, materiaal en/of informatie.
Toelichting
Met een Value Stream Map (VSM) breng je de efficiency van een proces in kaart, met het doel om die te verhogen. Je stelt een eerste (concept)versie van de Value Stream Map op in een workshop format, met functionarissen die direct bij het proces betrokken zijn. De efficiency is hier de mate van toegevoegde waarde per proces.
Geïnteresseerd in het opstellen van een VSM? Klik dan hier en schrijf je in voor de Green Belt training
Onder een 'stap van toegevoegde waarde' in een proces, verstaan we een activiteit:
• Die een (onderhanden) product of dienst verandert of transformeert
• Waarvoor klanten bereid zijn te betalen, én
• Die in één keer goed gaat.
Hoeveel procent van de tijd in een proces is dan waarde toevoegend? Daar is de PCE voor bedacht. De PCE (Proces Cycle Efficiency) is de (gemiddelde) tijd van de waarde toevoegende stappen in het betreffende proces, gedeeld door de (gemiddelde) totale procesduur.
In formulevorm:

𝑖𝑛 %
De noemer van de formule (totale doorlooptijd) bevat dus zowel de waarde toevoegende tijden en de niet waarde toevoegende tijden, waaronder verspilling.

Aanpak
1• Als eerste: kies en baken af. Kies uit probleemgebieden/hoofdprocessen. Maak een SIPOC vooraf ervan, om af te bakenen en te duiden. Definieer betreffende dienst of product(groep) die aan je verbeterdoel gekoppeld is. Enne, wie faciliteert wie?
2• Maak al plakkend of tekenend een grafische voorstelling van de processtappen
3• Dienst- of materiaalstroom: breng de doorstroming van het product/de dienst verder in kaart. Beschrijf bij elke processtap relevante data (in de databox) en voorraden en eventueel kenmerken zoals push-elementen, pull-elementen, FIFO, et cetera
4• Informatiestroom: doe hetzelfde met de doorstroming van de informatie. Maak onderscheid in elektronische (computer)informatie en met de hand ingegeven informatie. Beschrijf kort het type informatie, de frequentie en de methode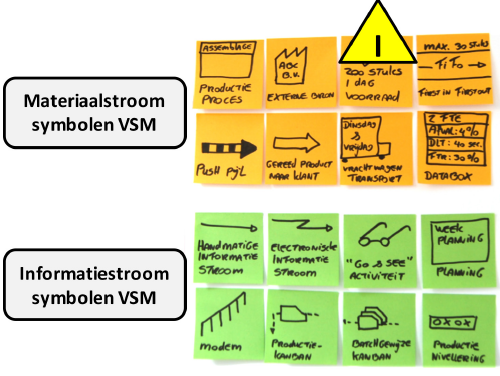 5• Breng een samenvattende tijdlijn eronder aan: hoelang duurt elke processtap?
6• Bereken de PCE van het proces. Traceer de gebieden waar vertragingen of andere verspillingen plaatsvinden (TIMWOODS). Waar is tijdwinst te boeken?
7• Valideer uitkomsten aan de hand van metingen (kan ook tijdens of vooraf)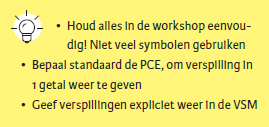 Synoniem en/of alternatief
Een Value Stream Map (VSM) wordt ook wel eens een 'Procesanalyse' of 'Waardestroom-analyse' genoemd.
Binnen Toyota heet de VSM: material and information flow mapping.
Een Makigami Mapping kan als uitstekend alternatief dienen, indien er geen (specifieke) focus op de procesduur is, maar een meer algemene inventarisatie op pijnpunten. Soms zie je ook 'hybride' procesbeschrijvingsmethoden, zoals een swim lane mapping met tijden en pijnpunten erbij.
Duur
Indien voorbereid: het uitvoeren van een Value Stream Map-workshop duurt minimaal twee uur, soms een dag/enkele dagen. Met datacollectie kan het langer duren.
Leren maken en faciliteren van een VSM? Klik dan hier en schrijf je in voor een van onze trainingen
Voorbeeld
Dit is een voorbeeld, verwerkt in een softwareapplicatie.