Doel
• Het 'Plussen & Klussen' helpt om feedback te geven & nemen in een verbetertraject
In het kort
'Plussen & Klussen' na een sessie – of tussentijds in een verbetertraject – is een open en algemene methode om feedback te geven en te nemen op de huidige gang van zaken.
Meer te weten komen? Klik dan hier en schrijf je in voor de Green Belt training.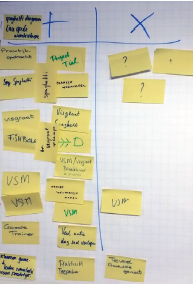 Toelichting
Het 'Plussen & Klussen' is een methode om een soort 'belevingsthermometer' in de groep te steken, en deze belevingen te delen. Een 'Plus' is iets wat je positief aan de sessie vond, een 'Klus' kan een vraag, verwondering, onduidelijkheid of ongemak zijn.
Deze eenvoudige tool helpt om (tussentijds) te leren van elkaar, om te beseffen wat belangrijk genoeg is en om te delen met de groepsleden. Bekeken vanuit team-dynamiek: het helpt om te kijken in welke fase je team zich mogelijk bevindt. Ook helpt deze vorm van feedback goed om eventuele onduidelijkheden of vragen tijdig op te pakken.
Aanpak
• Laat de facilitator aanwezigen vragen om input te leveren ('plussen' en 'klussen')
• Meteen erna of bij de volgende ontmoeting wordt er op teruggekomen
Synoniem en/of alternatief
Tops & Tips. In het Engels: Plus & Delta. Het is breder dan 'Plussen & Minnen'.
Duur
Plussen & Klussen feedback (geven & nemen) duurt vaak 5 tot 15 minuten.