Doel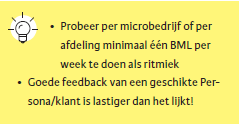 • Innoveren door te leren van Persona's of (aankomende) klanten
• Bevorderen van ondernemerszin met weinig overprocessing
• Snel aan de slag gaan zonder uitgebreide studies en scenario's
In het kort
De BML (Build, Measure, Learn)-methode is de basis van Lean Startup. Al werkende ontwikkel je je product of dienst aan de hand van terugkoppelingen van (mogelijke) klanten.
Toelichting
Als beginnend ondernemer wil je snel weten of je idee weerklank vindt bij je klanten. Alle tijd die je stopt in de theoretische basis onder je bedrijf kun je niet besteden aan de uitwerking van je idee. Door BML toe te passen zie je snel resultaten. Een typisch resultaat na het bouwen heet een Minimum Viable Product (MVP). Het idee is dat je niet zozeer een prototype bouwt, maar iets wat minimaal is om aan je (mogelijke) klant voor te leggen. Denk hierbij ook aan iets kleins, zoals een (basis) website, een filmpje of een schets. Leer van de feedback. En weet dus ook snel of je (flink) bij moet sturen voor succes. Of niet (vaak wel overigens). De term Lean Startup komt overigens van Eric Ries.
Meer te weten komen over BML? Klik dan hier en schrijf je nu in voor de Green Belt training.
Aanpak
• Bouw een Minimum Viable Product (MVP) van je propositie/oplossing
• Vind (mogelijke) afnemers hiervoor. Dit zijn vaak zogeheten 'earlyvangelists'
• Leer van de reacties van je (mogelijk toekomstige) afnemers (validated learning)
• Verander je product of dienst. Eventueel flink op de schop ermee!
• Schaal na meerdere BML-iteraties op, en blijf meten of je je doelen haalt
Synoniem en/of alternatief
Efficiënt alternatief van BML is de binnen ICT zeer bekende Agile-aanpak Scrum Sprint. Ook komt de One day Scrum voor.
Duur
Zeer kortcyclisch, denk aan een dag tot maximaal enkele weken. Is het meer werk? Wees creatief, of knip het bouwen op om per oplevering iets specifieks te toetsen bij de klant.
Voorbeeld
In de volgende figuur staat de schematische weergave van een BML. Ga er vanuit dat je juist meerdere, opeenvolgende BML's doet. Voorbeelden van een BML zijn er legio.
Hieronder zijn er enkele:
• Het maken van je Business Model Generation Canvas/Lean canvas met minimaal één toetsing van een relevante, achterliggende hypothese
• Een app met slechts één feature
• Een filmpje om je dienst of product te duiden
• Een landingspagina op een website (met één Call-to-Action operationeel)
• Bij een fysieke winkel in de winkelstraat: (1) probeer een simpele aanbodwijziging in de etalage, (2) vraag om feedback van (aankomende) klanten,
(3) leer ervan en ga verder met een nieuwe cyclus
• Een wijziging van een waarschijnlijke invloedsfactor (X) op een brochure of website. Binnen Lean Startup praten we dan over A/B testing