Doel
Een relatie tussen een continue variabele (Y) en discrete variabele(n) (X) visualiseren
In het kort
Een Boxplot is een grafiek waarmee een relatie tussen een continue variabele en discrete variabele(n) wordt weergegeven.
Toelichting
Een Boxplot helpt om aannamen of hypothesen te bevestigen of bedenken. Bedenk dat je ook met diverse discrete variabelen verschil in zowel medianen als andere kwartielen kunt visualiseren. Ideaal voor als je veel data hebt, want je kunt de data indelen in vier parten. Meer informatie over de Boxplot is in de meetfase terug te vinden.
Meer te weten komen over de Box whisker plot? Klik dan hier en schrijf je in voor de Green Belt training.
Aanpak
Over hoe je in detail een Boxplot zelf kunt maken, is reeds in de meetfase (DMAIC: Measure) besproken. Hier gaan we meer in op hoe je een X-Y grafiek opstelt.
•Verzamel 'gepaarde data', dat wil zeggen dat je aan een statistische eenheid zowel een continue variabele (Y) meet, als minimaal één discrete variabele (X). Bijvoorbeeld de beste honderdmetertijden versus de sekse van atleten
•Plaats de continue variabele (Y) verticaal op de Y-as, en horizontaal op de X-as de discrete variabele (X)
•Interpreteer de kwartielen en het patroon in de grafiek. Lijkt er een verband?
Synoniem en/of alternatief
Voluit: Box-whisker plot. Wel wordt bij meervoudige discrete X'en, en bij een beperkte hoeveelheid aan data, ook de Multi-Vari chart ingezet, of de Individual Value Plot (IVP).
Duur
Een Boxplot maken is digitaal in seconden, handmatig in vele minuten te maken.
Voorbeeld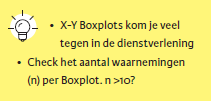 In de Boxplot hierna is de gespreksduur ofwel de Average Handling Time (AHT) uitgezet tegen het aantal maanden dat servicedeskmedewerkers er werkzaam zijn (in maanden). Duidelijk is af te lezen dat ervaring van invloed lijkt op de duur van gesprekken.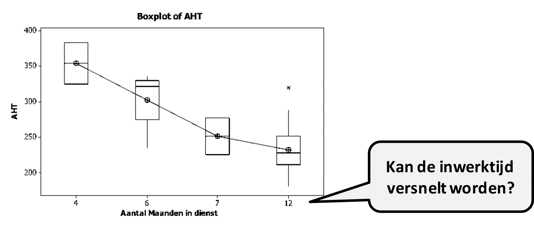 In de Boxplot hierna is de doorlooptijd uitgezet tegen klanttevredenheid (scores 1 tot en met 5). Hier is de relevante Y juist op de X-as geplaatst en de mogelijke oorzaak (te trage tijden) op de Y-as. Dit omdat de Y discreet is, en de X continu. Dat is spiegelen, wat op zich prima is, maar niet standaard of mogelijk lastiger te interpreteren is.