ZIJ moeten veranderen!
Dat anderen veranderen is natuurlijk mooi, maar zelf veranderen blijft lastig. Je kunt je natuurlijk wijsmaken dat jij dat als 'halfgod' niet hoeft te doen, maar je weet ook dat jij als topper natuurlijk wel het nieuwe, goede voorbeeld moet geven (af en toe). Noblesse Oblige, zoals de Fransen zeggen. Veranderen kost, kortom, meestal energie. Waarom zou jij als inhoudelijke, lokale topexpert eigenlijk uit je comfortzone komen en samen groeien naar een meer prestatiegerichte omgeving? En feedback van anderen dulden? Eng toch?
Enkele quotes: 'Dat levert toch alleen maar stress op?', 'Maar… zo werken wij al jaren!' en 'Waarom zo kil of blauw? Werken we nog niet hard genoeg?' Typische vormen van weerstand: mensen associëren veranderen vaak met verlies. Tenzij het alternatief nog pijnlijker lijkt, of een droom kan uitkomen. Dat geldt trouwens niet alleen voor de ander, maar ook voor jou. Oei!
Meer te weten komen over Verandermanagement? Klik dan hier en schrijf je in voor de Red Belt training.
Wat is Changemanagement?
Changemanagement is Engels voor veranderkunde of verandermanagement. De kunde waarbij je je met name bezighoudt met het veranderen van structuur en/of werkwijzen binnen een organisatie. Een definitie:
'Changemanagement refers to any approach to transform individuals, teams and organizations. In addition, it is the use of methods and approaches intended to re-direct the use of resources, business processes, budget allocations that significantly reshapes an organization.'
Wat is een Change Agent?
Een Change Agent is iemand die een verandering ondersteunt. Iemand die een goede verandering realiseert, een effectieve verbeteraar. Iemand die goed voorbeeldgedrag laat zien en anderen kan inspireren. Maar… hoe doe je dat? Veranderen ten goede? Daar komen we verder in dit hoofdstuk op terug.
Veranderen zonder succescriteria?
Bij organisatorische veranderingen grijpen we binnen Lean Six Sigma vaak naar boeken van Kotter, of het CAP-model van GE. Beide modellen komen uit de vorige eeuw, en focussen op (sterk overlappende) succesfactoren voor organisatorische veranderingen. Een voorbeeld van een succesfactor is het hebben van een goede (verander)visie. Dit helpt onder andere voor zowel focus (het 'waarheen') als motivatie (het 'waarom'). Eerst meer daarover.
Veranderen met Lean Six Sigma
Indien de veranderwens is om naar een continue verbetercultuur te gaan
Bij een serieuze verbeterambitie ondersteunt Lean Six Sigma jouw visie, zoals het streven om 'in vijf jaar de meest betrouwbare wegtransporteur van exclusieve pakketjes in de BeNeLux worden'. Of 'in 2020 dé topthuiszorg leveren in Noord Nederlandse steden'.
Een organisatie met een ambitieuze 'verbeterreis' van jaren redt dat niet met een strategisch A4'tje en wat losse trainingen, maar vult drie onderdelen serieus in:
• Het WAARHEEN: Welke visie en KPI's hebben we? Voer op transparante, visuele wijze prestatiedialogen in, inclusief een top-down KPI-cascadering
• Het HOE: het ontwikkelen van 'kunde' ofwel routines in Continu verbeteren. Denk bijvoorbeeld aan het realiseren van effectieve stand-ups of weekstarts, best practices beheersen als het gaat om analyses, of het zelfstandig goed kunnen uitvoeren van een verbetertraject. Realiseer de gewenste verbeterkunde op elk niveau in de organisatie
• Het WAAROM c.q. motivatiedeel (cultureel): wat is de identiteit van onze organisatie? Welke kernwaarden? Welke concrete gedragingen willen we zien? En welke principes en overtuigingen (mind sets) helpen om een verbetercultuur te realiseren?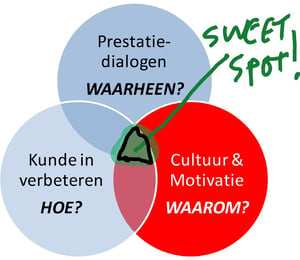 En de integratie, oftewel het midden? Dat noemen we de sweet spot! Meer info hierover in de introductie van Lean Six Sigma (hoofdstuk 2).
3 dimensies van een verbetercultuur: