Doel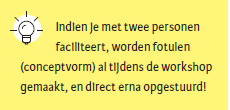 • Efficiënt herkenbare informatie delen van een workshop
• Om het geheugen in de toekomst te helpen
In het kort
Fotulen zijn foto's van (workshop)bijeenkomsten, aangevuld met eventuele conclusies, acties of vragen.
Toelichting
Fotulen zijn een fotorijk alternatief op de klassieke, vaak wat formele notulen van een bijeenkomst. Het uitwerken van zaken als processchema's is bewerkelijk, maar je kunt vaak (eerst) volstaan met foto's van de resultaten in een powerpointdocument ('fotulen'). Deelnemers vinden het vaak ook prettig als er sfeerimpressies in staan, dus beelden van deelnemers die in de workshop bezig zijn. Zien ze die foto's, dan beleven ze de workshop als het ware opnieuw. Ze zullen verrast zijn door de snelheid waarmee ze het verslag krijgen! Dit draagt bij aan de motivatie om snel ermee verder te gaan.
Meer te weten komen over een workshop? Klik dan hier en schrijf je in voor de Green Belt training.
Aanpak
• Maak enkele foto's tijdens de workshop van de deelnemers
• Fotografeer na afloop alle resultaten op de flip-overvellen, brown papers en alle andere zaken die het inhoudelijke resultaat vormen. Tips voor het fotograferen vind je op de vorige pagina
• Plaats de foto's in chronologische of een andere logische volgorde in het verslag; PowerPoint werkt hierbij goed. Zorg dat alles goed leesbaar is (behalve bij vertrouwelijke zaken)
• Sla het powerpointbestand op als pdf-document, zodat iedereen het document kan openen. Soms ook noodzakelijk opdat de bestandsgrootte niet voor problemen zorgt

Synoniem en/of alternatief
Fotulen noemen we wel een fotorijke verslaglegging of fotoverslag (met opmerkingen erbij).
Duur
Fotulen kosten je, afhankelijk van de behoefte, complexiteit en 'handigheid' minimaal een kwartier en maximaal een paar uur.
Voorbeeld
Onderstaand zijn wat fotoverslagen van workshops in de Lean Six Sigma-praktijk.