Nulmeting

Bepaling omvang klantprobleem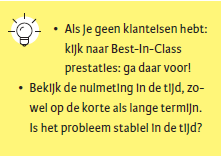 Doel
Begrijpen wat een nulmeting inhoudt en waarvoor je die gebruikt

In het kort
Een nulmeting binnen Lean Six Sigma geeft aan hoe groot het probleem of de uitdaging feitelijk is, vanuit de klant gezien. Uitgedrukt in (een) (ken)getal(len) en grafiek(en).

Toelichting
Een nulmeting is een feitelijke weergave van de huidige situatie. Binnen Lean is dit vaak beschrijvende statiek in relatie tot klanteisen. Binnen Six Sigma wordt in de nulmeting vaker ook inferentiële statistiek meegenomen. Denk hierbij aan het toetsen op normaliteit, of het weergeven van betrouwbaarheidsintervallen.

Aanpak
• Koppel de indicator Y aan meetbare, kritieke klanteisen
• Valideer representatieve data van deze indicator Y
• Bedenk welke grafiek(en) het meest logisch en/of toepasbaar is (zijn)
• Bereken relevante beschrijvende statistiek (kengetallen) zoals een centrum- en spreidingsmaat en vat de procesprestatie samen (bijvoorbeeld in '% OK', σ-niveau, PPM/DPMO)
• Deel deze nulmeting met je belanghebbenden (stakeholders)

Synoniem en/of alternatief
Een nulmeting heet ook wel een 'procesprestatie-analyse en stabiliteitstoetsing' bij continue data. In het Engels: baseline of current state (performance) of the AS-IS situation.
Puur vanuit een Kaizen event gezien, kan een spaghettidiagram, concentratiediagram, VSM of FMEA een soort 'analytische' nulmeting opleveren. Binnen maandenlange DMAIC verbetertrajecten vallen deze tools vaak juist onder de Analysefase.

Duur
Als valide data beschikbaar zijn, kan een half uur genoeg zijn. Maar in de praktijk kom je van alles tegen. Binnen Lean Six Sigma praten we vaak over dagen tot maanden.
Huidige procesprestatie in getallen en grafieken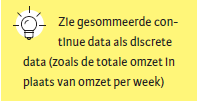 Overzicht voor gangbare grafieken en getallen in de nulmeting
Welke grafieken en getallen gebruik je?