Grafieken

Paretodiagram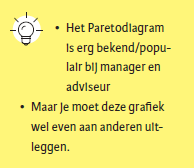 Doel
• Discrete data in frequenties weergeven (ook in optellende percentages)
In het kort
Een Paretodiagram is een grafiek om tellingen of gesommeerde waarden van een indicator Y per categorie weer te geven. Dat helpt om inzicht en focus te krijgen.
Toelichting
Sommen geef je weer in een uitgebreid staafdiagram. De sommen (linker-Y-as) orden je in staven van links (grootst) naar rechts (kleinst). Op de rechter-Y-as geef je het cumulatieve percentage (met een lijn) weer tot 100%. Idee is om je op de grote 'brokken' te richten (80-20-principe). Het Paretodiagram is vernoemd naar Vilvredo Pareto. Het is een van de zeven beroemde en veel gehanteerde zogenoemde kwaliteitstools.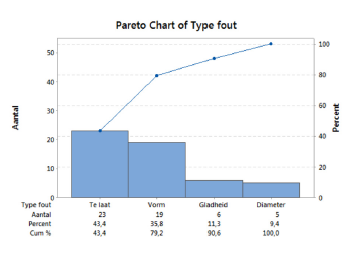 Aanpak
• Verzamel de data (liefst n >100)
• Stel het Paretodiagram op
Synoniem en/of alternatief
In het Engels: Pareto Chart.
Alternatief is een taartdiagram of
een andersoortige staafdiagram.
Duur
Met software in een seconde.
Voorbeeld
Hiernaast staan aantallen fouten
per type in een Paretodiagram.