Doel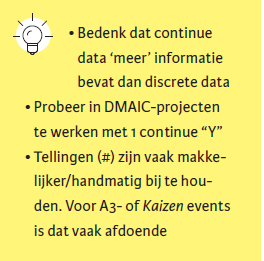 • Onderscheid kunnen maken: welke type data is nuttig voor jouw situatie?
• Keuze voor het juiste type data is nodig om te weten welke type grafiek en analyse straks ingezet moet worden
In het kort
Data worden door statistici in twee verschillende typen ingedeeld: in discrete en continue data.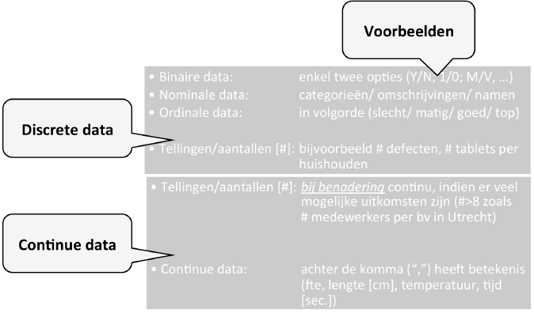 Aanpak
• Het bepalen van het type data is vaak onderdeel van een datacollectieplan of meetplan
• Bepaal het gewenste type data per indicator die je wilt meten (bij de Y'en én X'n)
Meer te weten komen over discrete data? Klik dan hier en schrijf je nu in voor de Green Belt training.
Synoniem en/of alternatief
Naast 'discreet' heb je ook 'categorisch' of 'attributief' (Engels: attributive). Discrete data heten ook 'kwalitatieve' data. Continue data noem je ook wel numeriek of kwantitatief. Het acroniem NOIR (Nominaal, Ordinaal, Interval en Ratio) kom je ook tegen.