Doel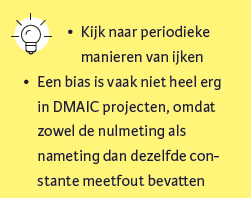 • Een dataset beoordelen op een systematische meetfout (accuraatheid)
In het kort
Met de systematische meetfout bedoelen we het gemiddelde van een (min of meer) constant en absoluut verschil tussen gemeten en werkelijke waarde.
Toelichting
Toetsen op de accuraatheid van een meetsysteem is het kwantificeren van de nauw-keurigheid van de meting ten opzichte van de werkelijke waarde. Deze constante, absolute meetfout wordt soms in absolute waarden, soms in percentages uitgedrukt.
Meer te weten komen over Lineariteit? Klik dan hier en schrijf je in voor de Green Belt training.
Synoniem en/of alternatief
De systematische meetfout wordt in de Engelse literatuur bias genoemd. Standaard wordt het protocollair ijken van een machine als toetsing uitgevoerd. Dat kan zelfs een norm of wettelijke vereiste zijn, zoals bij tankstations en het registreren van het aantal liters in je tank.
Voorbeeld
Als de weegschaal verkeerd is afgesteld, krijg je een verschil in gemeten en werkelijk gewicht. De weegschaal geeft bijvoorbeeld 2 kilo minder (70) aan dan de werkelijke (72) kilo's. Ook kan sprake zijn van structurele onderschattingen, bijvoorbeeld bij voorraadtellingen.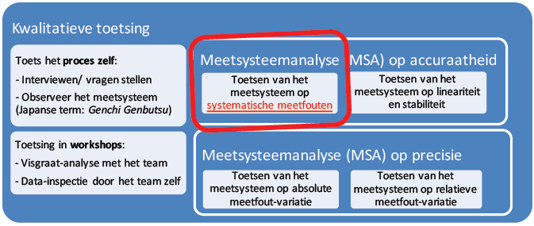 Accuraatheid: Lineariteit
Doel
• Een meetsysteem beoordelen op lineariteit (onderdeel van accuraatheid)

In het kort
De lineariteit is de relatieve meetfout tussen gemeten en werkelijke waarde in het gehele bereik (range).

Toelichting
Lineariteit is het gemiddelde relatieve verschil dat de accuraatheid van een meetsysteem beïnvloedt. Deze meetfout wordt wel in percentages (% meetfout) uitgedrukt. Dat wil zeggen dat de meetfout toeneemt bij grotere waarden. Dit type meetfout komt voor bij het meten van afstanden en snelheden, in watermanagement (zoals bij CZV en BZV), maar ook – algemener – in de maakindustrie.
Synoniem en/of alternatief
Lineariteit is een mooi woord voor de relatieve meetfout. In het Engels: linearity (error).

Voorbeeld
Snelheidsmeters van auto's hebben vaak een relatieve fout van (bijna) 10%. Dan denk je dat je 55 km/uur rijdt, terwijl dat in werkelijkheid 50 km/uur is. Of dat de meter in plaats van de werkelijke 131 km/uur, wel 145 km/uur aangeeft.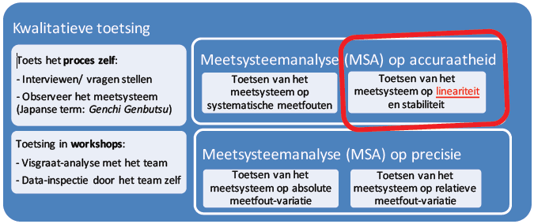 Accuraatheid: Stabiliteit
Doel
Een meetsysteem beoordelen op stabiliteit (onderdeel van accuraatheid)

In het kort
Een stabiel meetsysteem betekent dat het meetsysteem constant blijft meten in de tijd.

Toelichting
De stabiliteit toetsen van een meetapparaat* hoort bij het bepalen van de accuraatheid van een meetsysteem. Dit kun je onder andere met een tijdreeksgrafiek weergeven.
*: stabiliteit van een meetfout (van een KPI of Y) wordt wel eens verward met de beoordeling van een KPI zelf op stabiliteit (verwar MSA dus niet met een 'nulmeting').

Synoniem en/of alternatief
In het Engels: stability.

Voorbeeld
Thermometers (in de auto of in de tuin) staan erom bekend dat zij flink van de werkelijke temperatuur kunnen afwijken, als de zon er (indirect) intensief op schijnt. Deze thermometers geven overdag vaak te hoge waarden aan, maar kunnen 's nachts wel accuraat zijn. Ook hoge windsnelheden bij metingen buiten (bijvoorbeeld het aanwezige gewicht van grondstoffen in silo's) kan metingen in de tijd beïnvloeden.