Doel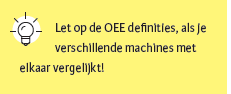 • De effectiviteit van een productielijn of machine verhogen
• Het terugbrengen van de kosten van onderhoud en van productieverlies
In het kort
Overall Equipment Effectiveness (OEE) is een (heel) bekende KPI binnen Total Productive
Maintenance (TPM). De OEE geeft inzicht in de verliezen per machine of productielijn,
maar ook waar, wanneer en waardoor deze verliezen optreden.
Meer te weten komen over een OEE? Klik dan hier en schrijf je in voor de Green Belt training.
Toelichting
Veel productieverlies en uitval is te wijten aan slecht onderhouden machines, onopvallende
verstoringen ('zo werken wij nu eenmaal') en slecht gepland onderhoud.
De OEE geeft dat mooi weer in de zes verliezen bij productie op kritieke productielijnen
of machines.
De OEE is een percentage (%) met de volgende formule: OEE = AL*PL*QL, waarbij
• De AL staat voor Availability Level (beschikbaarheidsgraad)
·· Denk aan (on)geplande stilstand van meer dan 5 minuten zoals grote
storingen
• De PL staat voor Performance Level (snelheid of prestatiegraad)
·· Denk aan downtime onder 5 minuten en de snelheid ten opzichte van gepland/
maximum
• De QL staat voor Quality Level (kwaliteitsgraad)
·· Denk aan defecte opstart- en eindproducten
Een OEE van wereldklasse gaat vaak uit van minimaal 90% beschikbaarheidsgraad,
95% prestatiegraad en 99,5% kwaliteitsgraad, wat resulteert in een OEE van minimaal
85%.
Aanpak
• Begin met 'beleid' inzake onderhoudszaken (begin bijvoorbeeld met TPM)
• Systematiseer informatie, planning en aansturing en zorg dat het onderhoud
een vast deel wordt van het proces. Denk hierbij aan het inzetten van (kritieke)
prestatie-indicatoren bij dagstarts, zoals de OEE bij een machine als
bottleneck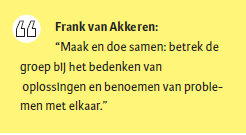 • Verbeter de OEE tot in ieder geval een OEE van 85%. Indien de OEE hoog is, kan er pas sprake zijn van een investering in extra (prijzige) machines
• Zorg voor duurzaamheid van het systeem door training van medewerkers, door 5S in te voeren indien nodig, en het regelmatig controleren en verbeteren van de prestaties
Synoniem en/of alternatief
Naast OEE komt ook Total Effective Equipment Performance (TEEP) voor, welke de OEE meet tegen kalenderdagen (24*7). Ook kun je, als je het wat begrijpelijker wilt maken voor je collega's, prima werken met de twee indicatoren 'uptime' en 'percentage goed'.
Duur
De duur van het opzetten is maximaal enkele maanden. Echter, het verbeteren van de OEE van een machine van zeg 40% naar 85% (wereldklasse) kan jaren duren.
Voorbeeld
Binnen een bedrijf welke unieke drogers en koelmachines voor de voedingsindustrie maakt, is de OEE ingezet voor een zogeheten zetbank (zie foto). De OEE is te zien in onderstaande grafiek (tijdreeks).