Doel
• Discrete data in frequenties weergeven (ook in optellende percentages)
In het kort
Een Paretodiagram is een grafiek om tellingen of gesommeerde waarden van een indicator Y per categorie weer te geven. Dat helpt om inzicht en focus te krijgen.
Meer te weten komen over de pareto diagram? Klik dan hier en schrijf je in voor de Green Belt training.
Toelichting
Sommen geef je weer in een uitgebreid staafdiagram. De sommen (linker-Y-as) orden je in staven van links (grootst) naar rechts (kleinst). Op de rechter-Y-as geef je het cumulatieve percentage (met een lijn) weer tot 100%. Idee is om je op de grote 'brokken' te richten (80-20-principe). Het Paretodiagram is vernoemd naar Vilvredo Pareto. Het is een van de zeven beroemde en veel gehanteerde zogenoemde kwaliteitstools.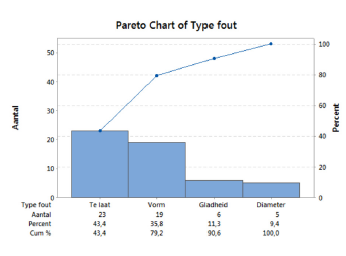 Aanpak
• Verzamel de data (liefst n >100)
• Stel het Paretodiagram op
Synoniem en/of alternatief
In het Engels: Pareto Chart.
Alternatief is een taartdiagram of
een andersoortige staafdiagram.
Duur
Met software in een seconde.
Voorbeeld
Hiernaast staan aantallen fouten
per type in een Paretodiagram.