Doel
• Zorg dat iedereen zijn rol en verantwoordelijkheid in het 'nieuwe' proces kent
• De rollen en verantwoordelijkheden communiceren binnen de organisatie
In het kort
Een RACI- of RASCI-matrix is een gangbaar onderdeel bij het toewijzen van taken,
rollen en verantwoordelijkheden op individueel niveau. RASCI staat voor Responsible,
Accountable, Supporting, Consulted en Informed. In het Nederlands: taak- of
operationeel verantwoordelijk, eindverantwoordelijk, ondersteunend, advies-verantwoordelijk, te informeren. Vier rollen die je aan medewerkers kunt toekennen
Toelichting
Een verandert proces kent nieuwe situaties. En vaak ook nieuwe verantwoordelijkheden.
Op een RA(S)CI-matrix kun je per taak aangeven wie welke rol of verantwoordelijkheid
heeft.
Geïnteresseerd in het implementeren van een RACI/RASCI-matrix? Klik dan hier en schrijf je in voor de Green Belt training
Responsible is diegene die verantwoordelijk is dat een taak of handeling gedaan wordt
Accountable is de eindverantwoordelijke voor het (deel)proces
Supporting is degene die meehelpt met de taakverantwoordelijke
Consulted zijn diegenen die voor een definitieve beslissing moeten worden geraadpleegd
Informed zijn diegenen die geïnformeerd worden over een genomen beslissing
Het toedelen van deze rollen of verantwoordelijkheden is een taak van de proceseigenaar.
Aanpak
• Maak een matrix met de namen van de medewerkers, afgezet tegen de taken
die verricht worden in de nieuwe manier van werken
• Gebruik per taak de letters R, A, eventueel S, C en I voor de rol van elke medewerker.
Beoordeel de matrix; missen er taken/activiteiten of rollen? Is er
per taak een R en A?
• Communiceer deze rollen en verantwoordelijkheden naar de medewerkers,
naar afdelingen waarmee wordt samengewerkt en naar eventuele andere stakeholders
in de organisatie
Synoniem en/of alternatief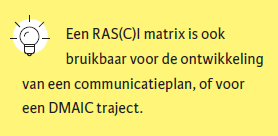 Het toewijzen van rollen en verantwoordelijkheden in een matrix, heet ook wel Responsibility Assignment Matrix. Je komt hier veel acroniemen tegen. Om er wat te noemen: RACI Matrix, RACI Chart, RACI-VS, CAIRO, CAIROS, DACI, ARMI.
Duur
Het opstellen van een RA(S)CI kan zeker enkele uren in beslag nemen. Denk aan een workshop, het accorderen en vastleggen ervan.
Wil je meer weten over de RA(S)CI-matrix? Klik dan hier en schrijf je nu in voor een van onze traningen!
Voorbeeld
Hier een voorbeeld van een RASCI-matrix met de rollen toegewezen per stap.