Faciliteren

Metaplan anno nu met plakbriefjes (post-it's)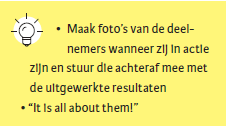 Doel
Het creëren, verzamelen, selecteren, visualiseren en vastleggen van ideeën, oplossingen, analyses en bevindingen om te komen tot een gedragen resultaat
In het kort
Een interactieve workshoptechniek die leidt tot een gedragen resultaat. In de jaren zeventig in Duitsland ontwikkeld door Wolfgang en Eberhard Schnelle, en later met plakbriefjes (zoals Post-its) aangevuld.
Toelichting
Bij Metaplan© worden visuele borden beplakt met beschrijfbare kaartjes in verschillende kleuren en vormen. Dat kunnen Post-its zijn, maar dat hoeft niet: de oervorm van Metaplan werkte met prikborden en punaises. Ook kun je eventueel magneetborden of whiteboards inzetten.
Specifieke workshopregels bewaken de effectiviteit van de workshop. De deelnemers horen een rol te hebben in het betreffende project of initiatief. Metaplan© dankt zijn succes aan het feit dat het alle deelnemers er actief en effectief bij betrekt. Dat is van grote waarde voor het verbeterproject.
Aanpak
Onderstaand is een voorbeeld bij een workshop tot en met een actieplan
• Schets eerst de workshopcontext; omschrijf urgentie en doel
• Stimuleer eigen bijdrage/individueel beschreven plakbriefjes
• Verzamel de briefjes, plak ze op een visueel bord en cluster ze
• Deel de resultaten: subteams presenteren zeer kort de gevormde clusters zodat iedere deelnemer zich een goed totaalbeeld kan vormen
• Prioritering: subteams stemmen met behulp van gekleurde plakstickers op de clusters en stellen vast wie, wanneer welke actie gaat ondernemen
• Gedragen actieplan: subteams presenteren hun geprioriteerde output en bijbehorende acties en bediscussiëren deze met de gehele deelnemersgroep.
Duur
Een workshop duurt minimaal twee uur, maar kan ook twee dagen in beslag nemen.