Turfstaat


Het registreren van aantallen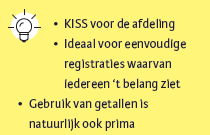 Doel
• Het feitelijk maken van een gepercipieerd probleem (of de status ervan weergeven)
• Benodigde aantallen (tellingen) makkelijk verzamelen
In het kort
Met een turfstaat registreer je aantallen met behulp van streepjes op een invulformulier, registratieformulier of bijhoudlijst. Een verzameling van vijf streepjes is een 'turf', vandaar de term.
Toelichting
Een turfstaat is een eenvoudige registratie van aantallen (denk aan incidenten, klachten en dergelijke). Turven is het registreren met behulp van streepjes.
Aanpak
• Het verzamelen gaat meestal fysiek/analoog
• Diverse mogelijkheden: met stiften op een bord of een tabel uitgeprint op papier
Synoniem en/of alternatief
Later zijn deze streepjes grotendeels door getallen vervangen (dankzij Indiërs). Engelstalig: tally (sheet/score).
Voorbeeld

Op een salesafdeling registreert en bespreekt men wekelijks onder ande-
re de eigen stemming (Mood) en beleving van drukte (Workload).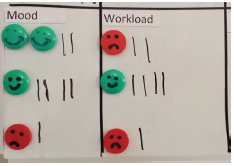 Elke werkweek zijn door een transport-team de foute afleveringen per dag (volgens klachten van klanten) geturfd.