Doel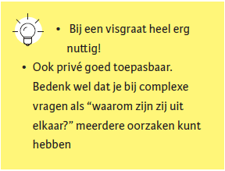 Tot de mogelijke grondoorzaak van een probleem komen
In het kort
Binnen Toyota (TPS) ingevoerde, effectieve interviewtechniek om tot de kern te komen. Vraag letterlijk meerdere keren "waarom?" ("why?"), totdat je bij de grondoorzaak bent.
Toelichting
Symptoombestrijding is als de fietsband plakken, zonder het glas op het pad op te ruimen… Echt goed doorvragen is, zeker bij onduidelijke problemen, wijzer dan speculatief meteen in oplossingen of 'schuldigen' te denken. Vijf keer (min of meer) doorvragen met "waarom?" helpt in het verbeteren om …
• Echt tot de kern van een probleem of risico te komen
• Niet direct 'schuldigen' aan te wijzen op basis van eerste vermoedens, primaire reacties of aannames
• Niet te snel in symptoombestrijding te denken
Meer hierover te weten komen? Klik dan hier en schrijf je in voor de Green Belt training.
Aanpak
• Begrijp wat het probleem is (of de uitdaging)
• Vraag meerdere keren "waarom?" en controleer of je de antwoorden snapt
• Verifieer met observaties (op locatie) of anderzijds of een oorzaak klopt
• Stop wanneer je merkt dat je tot de echte (grond)oorzaak bent aangekomen
Synoniem en/of alternatief
In het Engels: 5 times "why?"
Duur
Kan in enkele minuten