Doel
•Toetsen van de visie op huidige waarden en gedragingen
In het kort
Bij de Bull's Eye Chart Exercise test je samen hoe uitvoerbaar de gevormde visie nu werkelijk is in termen van waarden en gedrag.
Toelichting
Anders gezegd: is de visie realistisch gezien de huidige normen, waarden en het gedrag van medewerkers binnen de organisatie? Toets deze met medewerkers, zo ontstaat er een visie in termen van gedrag en waarden die werkelijk uitvoerbaar zal zijn. Potentiële bronnen van weerstand komen waarschijnlijk nu al aan de oppervlakte, zodat je hier rekening mee kunt houden of je de visie erop kunt afstemmen. dan wordt je visie realistischer.
Meer te weten komen over de Bull's eye chart? Klik dan hier en schrijf je in voor de Green Belt training.
Aanpak
• Eerst benoem je de 'kern', ofwel het 'gedrag' dat we dagelijks zien
• Dan benoem je de mindset: wat zijn de waarden zoals die nu waarneembaar zijn? En wat zijn de gedachten die horen bij ons dagelijks vertoond gedrag?
• Vervolgens ontwikkel je de uiteindelijke visie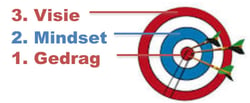 Synoniem en/of alternatief
Een alternatief is de More of/Less of oefening inzake gedragingen.
Duur
Afhankelijk van de grootte van de organisatie en ambitie: een workshop van twee uur per afdeling heb je gauw.