Doel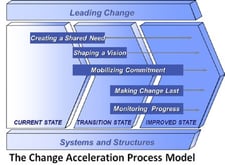 • Snel, succesvol en duurzaam implementeren van verandering in de organisatie
In het kort
CAP (Change Acceleration Process) is een praktisch hanteerbaar stappenplan voor verander-management, dat is gebaseerd op bewezen succesfactoren binnen General Electric (1992).
Toelichting
Volgens de beroemde formule van verandering, is de effectiviteit (E) van de verandering het product van de inhoudelijke kwaliteit, aanpak of oplossing (Q) en de acceptatie (A) ervan. Deze formule wordt de Wet van Maier genoemd.
In formulevorm: E = Q x A.

Door de juiste aandacht aan de acceptatie (A) te schenken borg je een snelle, succesvolle verandering. De acceptatie (A) van verandering is vaak uitdagend en dynamisch. Daarnaast is de kwaliteit van de oplossing (Q) natuurlijk relevant. Als je bijvoorbeeld organisatorisch 'automatiseert om te automatiseren', of enkel suboptimaal 'iets' doet, wil dat niet zeggen dat je goed bezig bent. Geef ook als het gaat om het inzetten van Lean of Lean Six Sigma, toch wereldwijd erkend als de culminatie van een eeuw verbeteren, dus nog veel aandacht aan de acceptatie (A) ervan! De zeven succesfactoren in het CAP-model lichten we hierna toe.
Meer te weten komen over het CAP model? Klik dan hier en schrijf je in voor de Green Belt training.
Aanpak
•Leading Change; gecommitteerd leiderschap gedurende het veranderproces
• Creating a Shared Need; ontwikkel een gedeeld besef van urgentie bij iedereen
• Shaping a Vision; formuleer een helder einddoel (in termen van gewenst gedrag). Communiceer en deel dat open, breed en begrijpelijk
• Mobilizing Commitment; krijg iedere cruciale stakeholder in beweging
• Making Change Last; borg (eerste) veranderingen in de wortels van het bedrijf
• Monitoring Progress; blijf meten en observeren (monitoren) en borg processen
• Changing Systems and Structures; verander ook de onderliggende systemen
& structuren zoals IT-systemen en gedrag van nieuwkomers (door onder andere training en inzet)

Synoniem en/of alternatief
Alternatieven zijn John Kotter's 8-stappen, PCI-Methodology, AIM of ADKAR-Framework.
Duur
De duur van een impactvolle verandering verschilt per ambitie en schaalgrootte. Een project duurt vaak zes maanden, een programma of portfolio een aantal jaren.
Voorbeeld
Je hoeft niet direct alle zeven dimensies in het CAP-model op niveau te hebben, maar wel minimaal vijf van de zeven. Op basis van interviews (ideaal als praatstuk) en/of een aantal concrete metingen, krijg je een goede indruk van de status van een grote verandering.
In de figuur hierna zie je is een versie die twee opties heeft: 'prima start', of 'Launch & Leave'.

Hieronder is sprake van een succesvolle verandering, waarbij een programma in de eindfase zit. Langdurige frustratie kan (veel) minder, indien systemen & structuren worden aangepast.