Doel
• Ruimtelijke patronen zoals bronlocaties vinden
• Een vastgesteld probleem feitelijk maken (of kansen duiden)
In het kort
Een concentratiediagram is een visueel hulpmiddel om oorzaken (locaties/concentraties) van defecten of incidenten te analyseren.
Toelichting
Een concentratiediagram wordt voornamelijk als analysetool ingezet. Naast het bijhouden van aantallen is dit een visueel krachtige tool om (interessante) locaties te vinden. Het wordt niet alleen in de Analysefase ingezet, maar ook in Kaizen events, de Controlfase of op een Lean-bord.
Aanpak
• Je kunt een concentratiediagram digitaal maken, maar ook met stiften op een bord of kaart. Een concentratiediagram maak je als volgt:
·· Maak duidelijk welk type defect/fout/incident je wilt onderzoeken
·· Maak een kaart (lay-out) van een zone of een product als ondergrond
·· Hierop met een stift, pen of punaise (digitaal) bijhouden waar en hoe vaak een defect/euvel (bijvoorbeeld een type ongeluk) voorkomt
·· Indien dit periodiek gebeurt zoals in een jaarrapportage of bij een overlegbord, vinden er meestal om de zoveel tijd updates plaats.
Meer te weten komen over een concentratiediagram? Klik dan hier en schrijf je in voor de Green Belt training.
Synoniem en/of alternatief
Een concentratiediagram heet ook wel een locatiekaart, themakaart of dot distribution map. Vaak zijn er ook branche specifieke benamingen. In de wereld van GIS (Geographical Information System) kom je ook dergelijke kaarten tegen, of als een specifieke Infographic.
Duur
Indien voorbereid: ga bij het maken van een concentratiediagram uit van enkele minuten (dagelijkse wijzigingen) tot vele dagen aan (wetenschappelijk) werk.•
Voorbeeld
Een heel klassiek voorbeeld is Dr. John Snow's cholera map over cholera slachtoffers in London in 1840-50 (kaart uit 1854). Door zijn analyse kwam uiteindelijk naar voren wat (waar) de bronnen van besmetting waren: bijvoorbeeld hier de pomp (X) op Broad Street.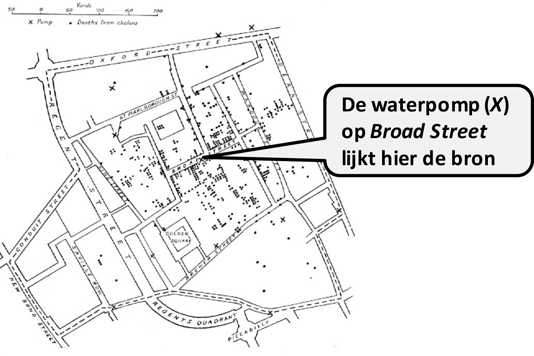 Een ander voorbeeld is de invulling van vraag 10 op het Europese autoschadeformulier, of onderstaand voorbeeld van drie auto's. Waar op welke auto is er sprake van autoschade? Een gele ster behelst bijvoorbeeld lak- of glasschade, en een rode ster een flinke deuk.