Doel
• Vertalen van je klantbehoeften in kritieke, afgebakende en meetbare klanteisen
In het kort
De vertaling van de Voice Of the Customer (VOC) naar kritieke, specifieke en meetbare
klanteisen (CTC Requirements) helpt om projectsucces te kunnen toetsen.
Toelichting
De klantwens staat centraal in elk Lean Six Sigma-verbeterproject en vormt de
'rode draad' ervan. Meetbare klanteisen geven uiteindelijk aan of je project succesvol
is afgerond. Stel dus vroeg in een verbetertraject je Critical to Customer (CTC)
Requirements vast. Bedenk: CTC Requirements zijn je klantkritieke, meetbare criteria
of normen. Dat is wat anders dan een 'waslijst van klantwensen' opstellen.
Aanpak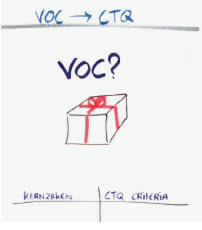 De vertaling naar CTC Requirements:
• Verzamel duidelijke klantbehoeften (VOC-collectie)
• Zijn er veel criteria? Prioriteer ze dan
• Herformuleer criteria naar projectdoelstellingen
Kortom: zorg dat doelstellingen van je project toetsbaar
zijn!
Synoniem en/of alternatief
In de praktijk en literatuur kom je veel verschillende termen of synoniemen tegen.
De meestvoorkomende binnen Six Sigma is CTQ (Critical To Quality) Requirement. In
de dienstverlening spreekt men van een SLA (Service Level Agreement) als onderdeel
van de overeenkomst. In de maakindustrie gebruikt men de term Specification Limit.
In de IT spreekt men vaak van Technical Requirement.
Meer te weten komen over CTQ Requirements? Klik dan hier en schrijf je in voor de Green Belt training.
Duur
Als je vooraf geoefend en getraind bent, maak je CTC Requirements in een uur. Zit
je met de klanten in een workshop of gesprek, dan kan het uren duren je voor het
eens bent over de kritieke succescriteria. Ook kan het verzamelen en ordenen van
veel klantenfeedback vele dagen tot weken werk kosten. Maar soms is je te verbeteren
klanteis al lang bekend.
De CTC-Matrix (Critical to customer)
Voorbeeld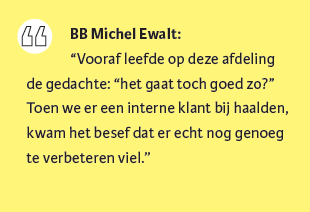 Zogeheten CTC Requirements verwerk je vaak in een soort matrix, in een workshop en erna soms in een template uit een werkboek. Hieronder zie je beide: zowel een resultaat op flip-over van een afdeling die incidenten oplost in een energiebedrijf, als een digitaal template.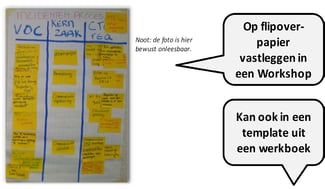 Onderstaand voorbeeld bij een Telecom-bedrijf geeft weer op welke klantbehoefte in een verbetertraject uiteindelijk werd gefocust: namelijk het veel sneller oplossen van incidenten. De duur ging uiteindelijk van gemiddeld meerdere dagen naar minder dan 4 uren.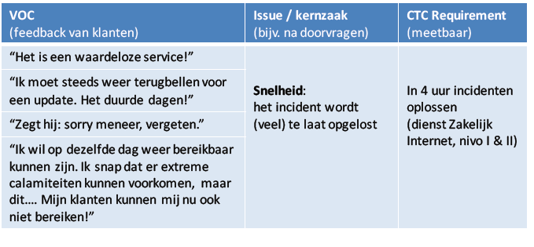 De CTQ-Flowdown binnen organisaties
Voorbeeld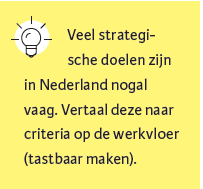 Een zogeheten CTQ-flowdown helpt om vanuit een strategisch doel (vaak wat abstract geformuleerd), via kernzaken naar (uiteindelijk) meetbare klanteisen op afdelings- of procesniveau te komen. Dit voorbeeld is van een woningcoöperatie. Van links (strategisch doel) naar rechts (criteria). De meeste criteria hieronder zijn concreet en meetbaar.