Doel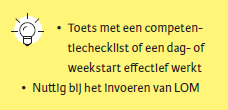 • Gewenst gedrag in organisaties specificeren, herkennen, toetsen en incorporeren
• Het risico van menselijk falen verkleinen
• Het teamverband versterken
In het kort
GOP staat voor Gedrag Observatie Programma. Het is een methode om door de signalen die mensen afgeven – verbaal of non-verbaal – het afbreukrisico in kaart te brengen.
Toelichting
Een GOP wordt ingezet indien waarden en bijbehorend gewenst concreet gedrag in een organisatie op een bepaald niveau gebracht moeten worden. Wordt ook wel in DMAIC-trajecten ingezet.
Aanpak
• Bereid de discussies voor
• Maak een checklist van de eigenschappen waaraan de 'ideale medewerker' moet voldoen
• Probeer van iedereen in kaart te brengen hoe hij of zij reageert in verschillende situaties. Geeft hij onomwonden zijn mening of is hij een binnenvetter? En kun je dan door zijn lichaamstaal aan iemand 'zien' wat hij of zij denkt?
• Spreken de leden van je afdeling elkaar aan op fouten of ongewenst gedrag? En gebeurt dat dan constructief of destructief?
• Help medewerkers die de eigenschappen waarop ze ver achterblijven niet zelf kunnen verbeteren eventueel met een mentor of coach
Meer te weten komen over GOP? Klik dan hier en schrijf je in voor de Green Belt training.
Synoniem en/of alternatief
Veel organisaties hebben een eigen naam voor hun competentiegerichte programma's.
Duur
Een GOP kan maanden tot meerdere jaren duren.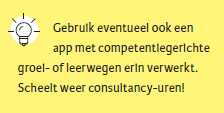 Voorbeeld
Zie de figuur hierna voor een competentiechecklist bij een salesweekstart. Hier is een minimale GOP ingevoerd, dat wil zeggen het observeren van overlegsessies in een salesafdeling. Dit was een standaardcompetentiechecklist.