Doel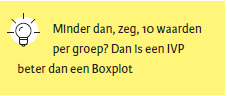 • Een relatie tussen een continue variabele (Y) en discrete variabele(n) (X) visualiseren
In het kort
Een Individual Value Plot (IVP) is een grafiek waarmee een relatie tussen een continue variabele en discrete variabele(n) wordt weergegeven.
Toelichting
Een IVP helpt om aannamen of hypothesen te bevestigen of bedenken. Bedenk dat je ook met diverse discrete variabelen verschil in zowel gemiddeldes als medianen kunt visualiseren. Ideaal voor als je een beperkte hoeveelheid aan metingen hebt per categorie (zeg n < 10). Meer informatie over de IVP is in de meetfase terug te vinden.
Aanpak
Over hoe je in detail een IVP zelf kunt maken, is reeds in de meetfase (DMAIC: Measure) besproken. Hier gaan we meer in op hoe je een X-Y grafiek opstelt.
• Verzamel 'gepaarde data', dat wil zeggen dat je aan een statistische eenheid zowel een continue variabele (Y) meet, als minimaal één discrete variabele (X). Bijvoorbeeld de hoeveelheid goede output per medewerker
• Plaats de continue variabele (Y) verticaal op de Y-as, en horizontaal op de X-as de discrete variabele (X)
• Interpreteer de locatie en variatie per categorie in de grafiek. Lijkt er een verband?
Synoniem en/of alternatief
Voluit: Individual Value Plot. Dit lijkt op een Dotplot, maar een Dotplot geeft enkel de ordegrootte en variatie weer van een continue Y (nulmeting). Terwijl de IVP in de Analysefase juist X-Y relaties visualiseert. Bij meerdere discrete X'en is de Multi-Vari chart mogelijk. Bij veel data is de Boxplot vaak overzichtelijker.
Meer te weten komen over een IVP? Klik dan hier en schrijf je in voor de Green Belt training.
Duur
Een IVP maken is digitaal in seconden, handmatig in enkele minuten te maken (mits het aantal waarden beperkt is).
Voorbeeld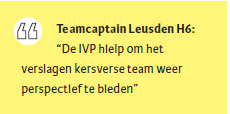 Bij de allereerste competitiewedstrijd ooit, kreeg een squash-team uit Leusden (SRGL H6) een flink 'pak slaag' van de uiteindelijke competitiewinnaar uit Bussum (S&W Bussum H4).
Onderstaande grafiek, gemaakt door de teamcaptain, hielp om het kersverse Squash-team uit Leusden er mentaal weer wat 'bovenop' te krijgen. Wat bleek? Team Bussum stond van alle teams gemiddeld duidelijk het beste (lees: laagste) op de ranglijst. Deze squashranglijst* is, net als bij amateurtennis, individueel en landelijk. Uiteindelijk werd het team een keurige middenmoter in deze competitie (conform inschatting, op basis van de initiële ranglijst).
* de ranglijst van de teamgenoten uit Leusden werd bij inschrijving bepaald op basis van een eerste inschatting door ervaren clubleden (vandaar de geringe variatie bij dit team).