Doel
• Bepalen van (on)bewuste klantbehoeften met de hoogste prioriteit
• Exploratief onderzoek ten behoeve van productontwikkeling en klanttevredenheid
• Indelen van typen klantbehoeften ten aanzien van een dienst of product
In het kort
Met een Kanoanalyse deel je (on)bewuste klantemoties of -behoeften in drie verschillende categorieën in. Deze drie categorieën heten dissatisfiers, satisfiers en delighters.
Toelichting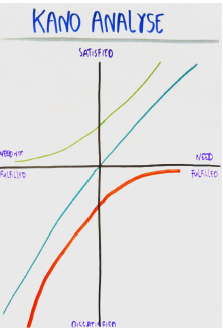 Elke klant(groep) heeft bepaalde verwachtingen van (onderdelen) van een product of dienst. Van een deel van deze verwachtingen is hij zich bewust, van een groot deel ook niet. De klanttevredenheid neemt niet altijd lineair toe als we 'alles maar gaan verbeteren'. Kunnen we al deze (on)bewuste behoeften dan niet prioriteren? Jazeker:
Klantbehoeften kun je volgens het Kanomodel van onder andere Noriaki Kano (1984) in drie categorieën plaatsen:
1• Basisbehoeften of 'hygiënefactoren'. Voldoe je daar niet aan, dan verliest het product zijn waarde (dissatisfiers)
Voorbeeld: een agenda waar niet alle 12 maanden in staan
2• Hoe-meer-hoe-betereigenschappen waarmee je je lineair kunt onderscheiden (satisfiers)
Voorbeeld: snelheid van inchecken
3• Onverwachte, positieve eigenschappen, (delighters)
Voorbeeld: extra comfort door een onverwachte upgrade
De Dissatisfiers wil de klant als eerste opgelost of verbeterd zien. Sneller leveren neemt klantontevredenheid niet weg als je product niet voldoet aan (onuitgesproken) basisbehoeften..
Aanpak
• Breng met interviews, observaties, onderzoek, brainstormsessies et cetera. klantbehoeften in kaart, ten aanzien van een specifieke dienst of product. Dit kan van alles zijn, van een Shared Service Centre tot een software upgrade
• Hanteer bij het bepalen van dissatisfiers, satisfiers en delighters, de volgende 2 typen vragen (positief en negatief):
a. Wat voel je, als het product/de dienst 'functionaliteit A' wél heeft?
b. Wat voel je, als het product/de dienst "functionaliteit A" niét heeft?
Bepaal de antwoorden aan de hand van een Kanotabel.
Meer te weten komen over een Kano Analyse? Klik dan hier en schrijf je in voor de Green Belt training.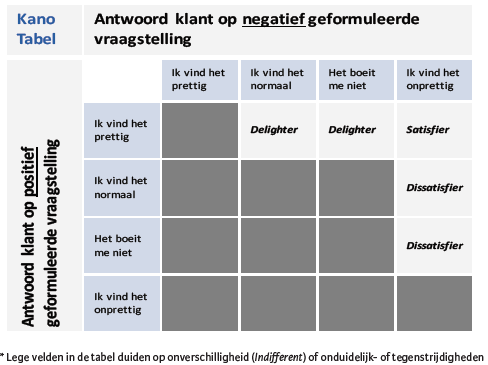 • Analyseer de antwoorden tot een overzicht (bijvoorbeeld in een tabel of grafiek)
• Prioriteer op basis van de antwoorden (type behoefte, mate van belangrijkheid volgens de externe en ook interne klant)
• Zorg eerst dat belangrijke, beïnvloedbare (dis)satisfiers van je product in orde zijn, voor je je focus gaat verleggen naar mogelijk nieuwe, onverwachte eigenschappen
Aanpak (aanvullend)
•Nogmaals, breng als eerste met behulp van interviews, observaties, onderzoek, brainstormsessies et cetera klantbehoeften ofwel gewenste eigenschappen in kaart.
In onderstaande tabel staat welke methode of aanpak je voor welke Kano-categorie kunt inzetten.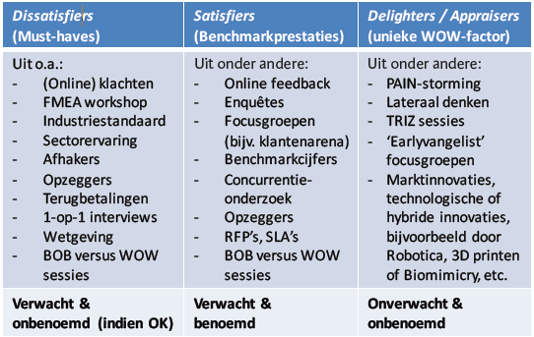 Synoniem en/of alternatief
De Kanoanalyse wordt ook wel Kanomodel genoemd. Heb je al concrete klantevaluaties (bijvoorbeeld klantenklachten, eerdere enquêtes), best practices of benchmarkcijfers, pak die dan eerst op als dat genoeg houvast geeft voor een verbeterproject.
Duur
Een 'kleine' Kanoanalyse kost minimaal enkele dagen hard werken, maar het duurt vaak weken om tot een zinvol advies of eindresultaat te komen.