Doel
Relaties tussen meerdere continue variabelen visualiseren
In het kort
Een Matrixplot is een verzameling van spreidingsdiagrammen. Hiermee worden relaties tussen meerdere continue variabelen weergegeven. Deze relaties zijn afwezig, deels aanwezig (lineair of niet-lineair) of (heel) sterk.
Toelichting
Een Matrixplot helpt om te prioriteren tussen (mogelijke) relaties. Handig om een goed overzicht te krijgen van de onderlinge statistische relaties.
Meer te weten komen over een Matrixplot? Klik dan hier en schrijf je in voor de Green Belt training.
Aanpak
• Verzamel 'gepaarde data', dat wil zeggen dat je aan een statistische eenheid meerdere continue variabelen meet (bijvoorbeeld lengte, gewicht, leeftijd, armlengte, EQ en IQ van testpersonen)
• Soms worden gegevens getransformeerd (bijvoorbeeld de Ytrans = Log(Y)) om enkel lineaire relaties weer te geven. Dit is zelden nodig in de dienstverlening
• Plaats alle (mogelijk) interessante relaties die je in een Matrixplot terug wilt zien
• Interpreteer de (lineaire) patronen in de grafiek. Lijkt er een verband?
Synoniem en/of alternatief
Zowel in het Engels als in Nederlandstalige literatuur: Matrixplot. Soms komt de term 'Scatter Matrix Plot' voor. Alternatief is meerdere spreidingsdiagrammen apart maken.
Duur
Een Matrixplot maken is digitaal in seconden, handmatig in (vele) minuten te maken.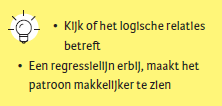 Voorbeeld
Onderstaand voorbeeld komt uit de logistieke sector. Een Matrixplot uit een Green Beltproject, waarbij eerst gekeken werd naar het verbeteren van de tijdigheid (meer op tijd leveren aan de klant). Na een data-analyse met onder andere een Matrixplot, ging de focus naar het verminderen van missende onderdelen. Niet alleen klaagden de klanten daar ook over, het leverde ook nog meer extra (ongewenste) kosten voor beide partijen op.