Doel
• Inzicht geven in de ordegrootte, spreiding als stabiliteit van een indicator.
In het kort
Een Control Chart geeft de ontwikkeling van een indicator of variabele in de tijd weer, waarbij bijzondere gebeurtenissen (statistisch gezien) gesignaleerd worden.
Toelichting
Een Control Chart is een tijdreeksgrafiek met statistische toetsen en grenzen. Met een Control Chart maak je onderscheid tussen 'normale' variatie (in control) en 'bijzondere' variatie (out-of-control). Deze grafiek helpt om significante patronen in de tijd (trends) te zien. De uitvinder van de Control Chart is Walter A. Shewhart (1924).
Meer te weten komen over Regelkaarten? Klik dan hier en schrijf je in voor de Green Belt training.
Aanpak
• Orden de data van de indicator in de tijd
• Geef de uitkomsten van de indicator weer op de Y-as, en de tijd weer op de X-as
• Bereken het gemiddelde, en bij de Individuals Chart de Lower en Upper Control Limits
·· De UCL en LCL zijn ten opzichte van het gemiddelde +/- 3 keer (respectievelijk) de kortetermijn-standaarafwijking
• Monitor en interpreteer vervolgens (nieuwe) waarden in deze Control Chart
Synoniem en/of alternatief
Een Control Chart heet in het Nederlands 'regelkaart'. De bekendste en meest gebruikte is de Individuals Chart of Shewhart Chart. Er zijn in de loop der decennia vele regelkaarten ontwikkeld, zoals de X-bar Chart en regelkaarten voor discrete data.
Alternatieven voor de Control Chart zijn de Run Chart en specifieke hypothesetoetsen.
Duur
Met specifieke software maak je deze grafiek in een (fractie van een) seconde.

Voorbeeld
Een voorbeeld is het aantal geregistreerde 'verkeerde adressen' per week van een logistiek dienstverlener. Week 1 was 'erg rustig'. Ook lijkt er wat veranderd na week 34.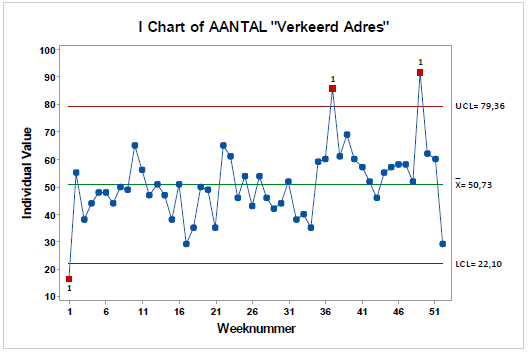 Ook voorbeelden in de financiële dienstverlening komen voor. Hier duurt het wachten op een formele reactie van een kredietaanvraag van ondernemers kennelijk steeds langer.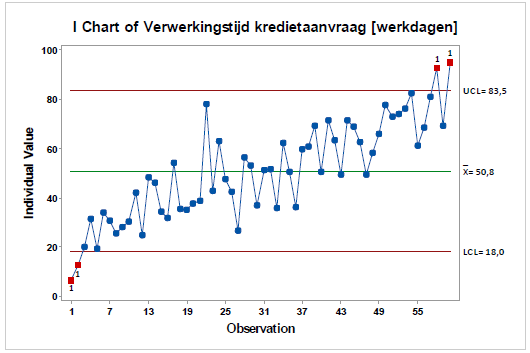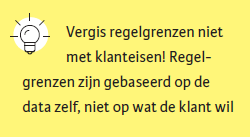 Kiezen uit meerdere typen regelkaarten (Control Charts)
Er zijn veel soorten Control Charts ontwikkeld. De bekendste is die voor continue, individuele data: de Individuals Chart (I Chart) of Shewhart Chart. Deze regelkaart is standaard bij Lean Six Sigma Green Belts. Logisch bij individuele metingen, zoals de doorlooptijd per aanvraag. Wat als je met gemiddelde doorlooptijden per dag werkt? Of met discrete data? Kloppen dan de regelgrenzen nog wel?

Kortom, welke type regelkaart kies je wanneer? De I Chart volgt de groene route linksonder in de volgende figuur. Voor proporties, tellingen, sommaties of gemiddelden gebruik je andere typen Control Charts. Zie de zwarte routes in de volgende afbeelding. De 'Green Belt-route' linksonder gaat in veel gevallen goed op. Lean Six Sigma Black Belts krijgen training in onderstaande keuzes.