Doel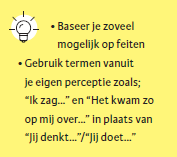 - Complimenteren naar aanleiding van positieve impact of adresseren richting correctieve acties
In het kort
Het AID-model van Max Landsberg (1997) staat voor Action, Impact en Desired Outcome (ook wel Development). Dit is een veel gehanteerde volgordelijkheid voor het geven van feedback op het resultaat van een collega of medewerker.
Toelichting
Action staat voor het adresseren van acties die goed of slecht gaan binnen de betreffende omgeving. Impact staat voor de effecten die deze acties hebben. Desired Outcome refereert aan de manier waarop de medewerker effectiever kan zijn.
Meer te weten komen over het AID model? Klik dan hier en schrijf je in voor de Green Belt training.
Aanpak
• Action: in de eerste stap van het feedback geven baseer je je op feiten en benoem je wat je zelf feitelijk hebt gehoord, gezien of gevoeld, welke resultaten zijn behaald en verdere specifieke opmerkingen
• Impact: in de tweede stap benoem je de gevolgen van deze feitelijke acties op projecten, resultaten en op anderen en beschrijf je wat dat inhoudt
• Desired Outcome: als resultaat van stap 1 en 2 stel je de vraag of de ander deze feedback herkent en wat hij of zij er aan denkt te gaan doen
• De feedback kan zowel positief als negatief zijn maar dient vooral om te motiveren en tevens eigenaarschap te stimuleren
Synoniem en/of alternatief
CORPS, BOOST, Pendleton's Rules (1984).