Doel
• De belanghebbenden rond het verbeterproject en hun attitude in kaart brengen
• Een plan opstellen om aan hun informatiebehoefte te voldoen
• Draagvlak creëren voor het welslagen van het verbeterproject
In het kort
Weten welke invloed jouw verbeterproject heeft op het werk van anderen. Eventuele bezwaren en weerstanden wegnemen en iedereen door een goede communicatie rond het project op één lijn krijgen.
Toelichting
Elke verandering roept ook weerstand op, al zijn je bedoelingen nog zo goed. Je succes hangt dus ook af van hoe je met die weerstand omgaat. Transparantie is hier het sleutelwoord. Weet met welke informatie je anderen achter jouw doelstellingen krijgt en zorg dat ze die informatie tijdig en goed gedoseerd krijgen.
Aanpak
• Breng in kaart wie belang heeft bij of te maken krijgt met jouw project. Doe dit idealiter samen met sponsor of budgethouder
• Analyseer de attitude van elke individuele stakeholder. Wie is positief? Wie negatief? Wat voor soort bezwaren hebben ze? (technisch: "Dat is niet uitvoerbaar", politiek: "Dat valt buiten mijn bevoegdheid" of cultureel: "Daar houd ik niet van")
• Inventariseer welk gedrag je van elke stakeholder verwacht en zijn huidige gedrag. Wie beïnvloedt wie?
• Inventariseer wie nog meer is geïnteresseerd in de uitkomsten van je project
• Maak een communicatieplan. Stel communicatiedoelen voor de verschillende stakeholders, bepaal de inhoud van je communicatie, de frequentie en de media die je gaat gebruiken
• Ontwikkel een elevator pitch: Wie? Wat? Waarom? En eventueel: Hoe?
Meer te weten komen over een communicatieplan? Klik dan hier en schrijf je in voor de Green Belt training.
Synoniem en/of alternatief
In het Engels: Stakeholder Analysis en Communication Plan. Er bestaan diverse (alternatieve) templates.
Duur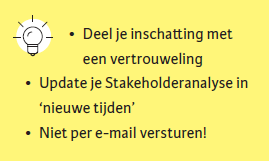 Het opstellen en onderhouden (updaten) vergt enkele uren werk.
Voorbeeld
Attitude afdelingsmanagers rond een innovatieproject zijn hieronder in kaart gebracht.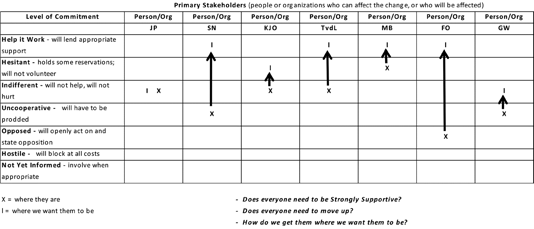 Hier ook een sjabloon met onderdelen om bij stil te staan in de communicatie.