Doel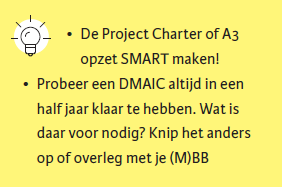 • Vanuit een goede diagnose een probleem (uitdaging) structureel oplossen
• Samen in een team in een verbetertraject werken aan Continu verbeteren
In het kort
Het acroniem DMAIC staat voor Define, Measure, Analyse, Improve en Control. DMAIC is een projectmatige, gestructureerde, probleemoplossende methode van aanpak, en vormt een belangrijk onderdeel van (Lean) Six Sigma-programma's.
Toelichting
DMAIC wordt gezien als een opvolger van en uitbreiding op de beroemde PDCA-cirkel van onder andere Shewhart en Deming. In het oog lopende verschillen zijn:
• Bij DMAIC is de diagnose (DMA) gedetailleerder en uitgebreider dan bij PDCA (P)
• In DMAIC zit meer feitenfocus: explicietere aandacht voor het meten. Bij Six Sigma komt ook het toetsen van databetrouwbaarheid en relaties aan bod
• DMAIC heeft meer oog voor projectmanagement, omdat het vaak gebruikt wordt voor zogeheten breakthrough-projecten (de wat grotere/complexere problemen)
• De klassieke DMAIC breakthrough-projecten duren vaak vele maanden. De PDCA-cirkel wordt vooral bij gefocuste, kleinschaliger problemen ingezet (bijvoorbeeld in enkele weken). Dit verschil zie je echter meer en meer vervagen
• Bij DMAIC-opleidingen wordt explicieter changemanagement behandeld.Changemanagement zie je gelukkig echter wel binnen algemenere Lean-opleidingen
Zoals eerder vermeld, lijken PDCA en DMAIC qua flow erg op elkaar. Je kunt DMAIC dan ook zowel voor kleine verbetertrajecten binnen een afdeling inzetten, als bij grotere of breakthrough-projecten. Een groot DMAIC-traject vraagt wel meer kunde in statistisch denken, projectmanagement en verandermanagement.
Meer te weten komen over DMAIC? Klik dan hier en schrijf je in voor de Green Belt training.
Aanpak
DMAIC is op de volgende pagina uitgewerkt in meer detail. Het behalen van de (tussen)doelen per fase is hierbij het uitgangspunt. Bedenk dat per DMAIC-traject altijd maar een selectie van het totaal aantal tools wordt ingezet. Afhankelijk van de situatie kies je de tools. De vaardigheid om DMAIC met de tools efficiënt en effectief zelfstandig in te zetten in een organisatie, kost wel wat ontwikkeltijd. Zeker als er afdelingoverstijgend of projectmatig gewerkt dient te worden, om tot een verbetering te komen. Het helpt enorm als je het een keer of twee zelf gedaan hebt.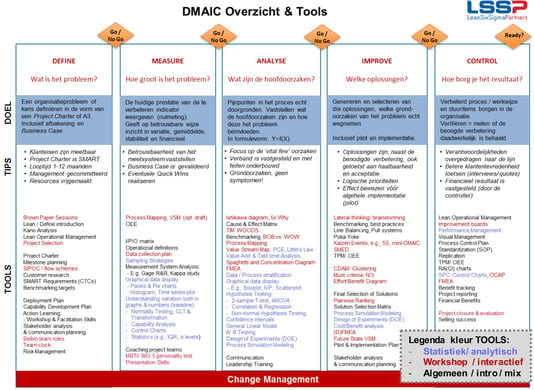 Synoniem en/of alternatief
DMAIC kan per organisatie anders heten. Alternatieven als DMAGIC en DMAIIC zijn in sommige organisaties terug te vinden. Toch blijft DMAIC het meest voorkomend.
Duur
De duur van een DMAIC-verbetertraject is in de praktijk enkele dagen tot meer dan een jaar. Maar de meeste DMAIC-trajecten kunnen in drie tot tien maanden afgerond zijn.