Doel
•100% kwaliteit kunnen leveren door fouten niet te maken, niet te verwaarlozen en ze niet mee te nemen in de rest van het proces
• Fouten vroegtijdig herkennen om minder correctiekosten te maken
In het kort
De Japanse term Poka Yoke betekent: 'onopzettelijke fouten vermijden'. Het komt neer op vroegtijdig signaleren en voorkomen van vergissingen of fouten in het proces, om je product of dienst met minder 'gedoe' te kunnen leveren.
Toelichting
Hoe eerder je tekortkomingen in het proces kunt opsporen, hoe geringer de effecten ervan zijn op de efficiency en hoe minder kosten je dus hoeft te maken om de gevraagde kwaliteit te leveren. Poka Yoke sluit fouten zoveel mogelijk preventief uit door een foolproof ontwerp. Voorbeeld: stekkers die maar op één manier kunnen worden aangesloten. Of: een elektronisch aanmeldformulier waarop je pas naar de volgende pagina kunt als vereiste gegevens zijn ingevuld.
Meer te weten komen over Poka Yoke? Klik dan hier en schrijf je in voor de Green Belt training.
Een goede Poka Yoke-oplossing vergt weinig investering en is een geïntegreerd onderdeel van het proces.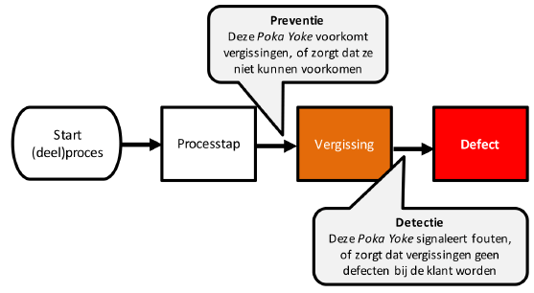 Aanpak
• Stel de fouten vast met behulp van een visgraat, FMEA, makigami of Value Stream Map en beschrijf ze. Vind grondoorzaken van de fout(en)
• Kun je het ontwerp of proces zo inrichten (mechanisch, systematisch of automatisch) dat deze fouten niet voor kunnen komen (Poka Yoke)?
• Zo niet, welke reactieve benadering komt dan in aanmerking? Waarschuwingssignaal? Automatische processtop? Andon?
• Ontwikkel en selecteer een oplossing
• Voer de gekozen oplossing door en zorg voor een duurzaam effect
Synoniem en/of alternatief
In het Engels kom je Mistake Prevention en Error Proofing tegen. Oorspronkelijk werd in Japan gesproken over Baka Yoke ('idioot-bestendig' of idiot-proof), die later is vervangen door de wat vriendelijker verwoording Poka Yoke.
Duur
Het bedenken tot en met invoeren van een Poka Yoke kan een uur tot enkele dagen duren.
Voorbeeld
Voorbeeld is vanuit de Formule 1.