Doel
• Inzicht krijgen in wat relevante pijnpunten van een proces of zelfs keten zijn
• Prioriteren welke pijnpunten te verbeteren
• Draagvlak en actiebereidheid creëren onder de betrokkenen
In het kort
Een Brown Paper Process Mapping Session is een krachtige manier om een huidig proces in kaart te brengen. Het is een visueel overzicht op 'bruin papier', inclusief werkinstructies en/of data, tot en met geselecteerde inefficiënties of pijnpunten ter verbetering.

Toelichting
Wel eens de opmerking gekregen van een proceseigenaar, in de trant van: "Er is geen (goed) proces! We weten niet waar te beginnen met verbeteren." Ja? Bedenk dat een Brown Paper Process Mapping Session dan erg nuttig kan zijn. Een redelijk ervaren facilitator is nodig, zoals een praktijkgecertificeerde Lean Black Belt. De methode komt uit Japan (1996).
Geinteresseerd in het zelf leren doen van een Brown Paper Sessie? Klik dan hier en schrijf je in voor de Green Belt training.
Aanpak
• Geef de context weer van het proces (zoals organogram en een SIPOC)
• Weergave van het proces of keten
• Aanvullende gegevens toevoegen, zoals werkinstructies, systemen en metingen van KPI's/tijden
• Pijnpunten door de participanten aangeven, en deze daarna ook prioriteren
• Deel de resultaten
Synoniem en/of alternatief
Je komt kortere omschrijvingen tegen als Brown Paper Session, of Makigami Mapping (Engels), of Makigami Procesanalyse. Makigami (Japans) betekent 'rol (bak)papier' of 'actiescript'. Wordt ook wel gezien als een uitgebreide TIMWOODS-sessie op procesniveau. Als snelheid (tijd) essentieel is, kan je een gerichte Value Stream Map maken als alternatief.

Duur
Neem hier gauw een halve dag voor. Bij een groot of complex proces (keten) soms meerdaags.
Leren hoe je een Brown Paper Sessie zelf kan doen? klik hier en kijk welke training bij jou past.
Voorbeeld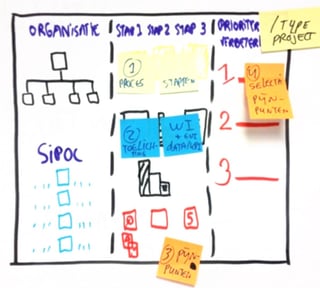 Hiernaast een schets van een Brown Paper Process Map ofwel makigami-map.
Hieronder een ICT-voorbeeld.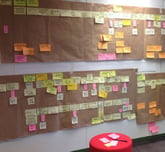 Hieronder een afgerond workshop van een makigami-map.