Doel
• Inzicht krijgen in de verplaatsingen van materiaal, en beweging van mensen
• In de Improve fase kunnen werken aan een zo efficiënt mogelijke lay-out
In het kort
Het spaghettidiagram maakt de verplaatsingslijnen en het aantal verplaatsingen zichtbaar die in de loop van een proces plaatsvinden. Het diagram ontleent zijn naam aan de wirwar van lijnen die het meestal oplevert in ingetekende lay-outs.
Meer te weten komen over de Spaghettidiagram? Klik dan hier en schrijf je in voor de Green Belt training.
Toelichting
Verplaatsingen zijn een belangrijke vorm van verspilling. Personeel dat heen en weer loopt, is in die tijd niet productief. En ook gesjouw met materiaal of tussenproducten wil je tot een minimum beperken. Het spaghettidiagram maakt die verplaatsingen zichtbaar. Dat is de eerste stap op weg naar de oplossing.
Aanpak
• Teken een plattegrond van de locatie die je onder de loep wilt nemen
• Teken in deze plattegrond de verplaatsingen (hoe en hoe vaak) van medewerkers, materiaal, tussenproducten of gereedschap. Gebruik voor elk type verplaatsing een eigen kleur
• Doe hetzelfde (in een andere kleur) met de kritieke punten in de 'ideale' route. Denk aan kruisingen tussen voetpaden en het verkeer van bijvoorbeeld heftrucks, opstoppingen of mogelijk gevaarlijke situaties.
Synoniem en/of alternatief
Soms komt de term route-analyse, spaghettigrafiek of workflow diagram voor. Alternatief is een concentratiediagram, indien het enkel om defecten of incidenten gaat (in plaats van beweging en transport).
Duur
Het maken ervan kan in een half uur. Soms is het wel lastig om een accurate plattegrond ofwel lay-out te verkrijgen.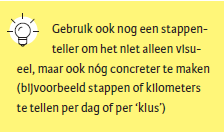 Voorbeeld
In een laboratorium is onderzoek gedaan naar onnodige beweging en transport. Er was een Green Belt, die vond het wel wat efficiënter kon. Na enkele verbeteringen was een vermindering van minimaal 30% aan beweging (met name stappen) bewerkstelligd.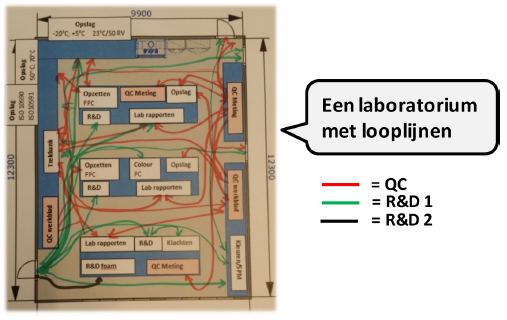 Van een proces kun je snel beweging en transport visualiseren met een spaghettidiagram. In de volgende figuur vind je een ander voorbeeld.