Doel
Het expliciet maken van de daadwerkelijke 'pijn' en behoefte van de organisatie.
In het kort
Idealiter voelt bijna iedereen binnen de organisatie dat de behoefte om te veranderen duidelijk sterker is dan redenen om niet te veranderen.
Toelichting
Idealiter voelt iedereen in de organisatie een Sense of Urgency. Dit bereik je door het wijd verspreiden van de juiste feiten (inclusief timing/deadline), en de publiekelijke steun van alle managementlagen van de organisatie. En een deadline.
Meer te weten komen over de Threat/Opportunity Matrix? Klik dan hier en schrijf je in voor de Green Belt training.
Aanpak
• Creëer bewustzijn en urgentie door te benoemen hoe de organisatie er nu voor staat, wat daarbinnen goed gaat, maar waarom dat op termijn niet voldoende is
• Schets een realistisch toekomstbeeld en benadruk de waarde hiervan voor zowel de eigen organisatie als de klant
• Laat medewerkers inzien dat de organisatie zeker niet te laat is, en dat er juist een heel mooi 'pad' naar deze future state loopt. Zwaar, maar wel uitdagend en realistisch
• Benadruk dat snel starten noodzakelijk is en dat het alleen lukt wanneer echt iedereen mee doet en vandaag nog begint
• Vraag om reacties, inventariseer de weerstand, en verzamel input voor de te ondernemen 'reis'
• Organiseer workshops waarin medewerkers bijvoorbeeld zelf SWOT-analyses en Threat/Opportunity matrices ontwikkelen. Dit kan ook een beginnend onderdeel zijn van de te ontwikkelen visie. Ook een 'klantenarena' kan helpen bij ontevreden klanten
• Maak helder hoe en hoe frequent er gecommuniceerd zal worden, waar men terecht kan met vragen en input en hoe er zal worden teruggekoppeld
Synoniem en/of alternatief
Een Shared Need heet ook wel een 'brandend booreiland' of Sense of Urgency. Analyses die helpen hierbij, zijn: Three D's matrix, (financiële) trendanalyses, en medewerkers in direct contact met hun (eind)klanten brengen (zeker als zij dat niet gewend zijn).

Voorbeeld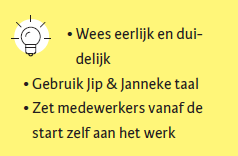 De SWOT-Analyse is een zeer bekende managementtechniek. Medewerkers stellen hem daarentegen bijna nooit zelf op. Voordat je een gezamenlijke behoefte kunt benoemen is allereerst een gezamenlijk bewustzijn vereist van de huidige actuele situatie. Juist daarvoor is de SWOT-Analyse een uitstekende methodiek. Organiseer bijvoorbeeld workshops, waarin medewerkers (of teamleiders) eerst zelf een SWOT-Analyse doen en presenteer pas daarna die van het (senior) management.

Sta je aan de vooravond van een groot verbeter/verandertraject, dan kun je met de Threat/Opportunity Matrix de urgentie en relevantie van het traject bij iedereen goed in beeld krijgen. Hier kun je de volgende vragen bij stellen:
• Op welk kwadrant is het traject het meest van invloed?
• Vanuit welk kwadrant kijkt de organisatie eigenlijk naar het traject?
• Vanuit welk kwadrant starten we eigenlijk überhaupt vaak trajecten binnen ons bedrijf?
• Hoe zorgen we dat we dit project allemaal samen vanuit hetzelfde kwadrant gaan zien?