Doel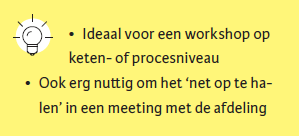 • Bewust worden en herkennen van typen verspilling in je processen
In het kort
TIMWOOD is een acroniem voor de zeven soorten verspilling die Taiichi Onno bij Toyota definieerde. Later kwam daar nog de S van Skills unused bij.
Meer te weten komen over Waiting? Klik dan hier en schrijf je in voor de Green Belt training.
Toelichting
Om een duidelijk beeld te krijgen van verspilling, kijk je met de ogen van een kritische klant naar je proces. Want uiteindelijk bepaalt de klant voor welke waarde-toevoegende activiteiten hij/zij wil betalen, en waarvoor niet (meestal verspilling).
Verspillingen (TIMWOODS) zijn de activiteiten die vanuit de klant bezien niet interessant zijn, en die geen hogere prijs van het product of de dienst rechtvaardigen. Hieronder vallen ook corrigerende acties om de gevraagde kwaliteit te leveren. Het aandeel van deze activiteiten in het proces is vaak relatief groot, maar dient zo klein mogelijk te zijn.
Aanpak
• Gebruik een Lean-analysetool, zoals een Value Stream Map of Takttijd-analyse
• Stel bij elke activiteit vast of er sprake is van verspilling, of niet (zie eventueel ook het onderwerp Time Value Analysis)
• Zie voor activiteiten die geen waarde toevoegen het TIMWOODS acroniem
Synoniem en/of alternatief
Naast het wereldwijd meest voorkomende acroniem TIMWOODS, komen vele alternatieven voor. Denk bij ICT en Onderhoud (Maintenance) aan het acroniem DOWNTIME, en het Nederlandstalige acroniem VERSTOPT. VERSTOPT hebben we naast TIMWOODS ook uitgelegd.
Duur
Verspilling structureel verminderen… continu. Een specifieke sessie inclusief doornemen, kan in een kwartier tot minder dan een uur (als het de eerste keer is, wel uitleggen).
Voorbeeld


Hierna vind je voorbeelden uit zowel de dienstverlening, als de maakindustrie (productie) weergegeven.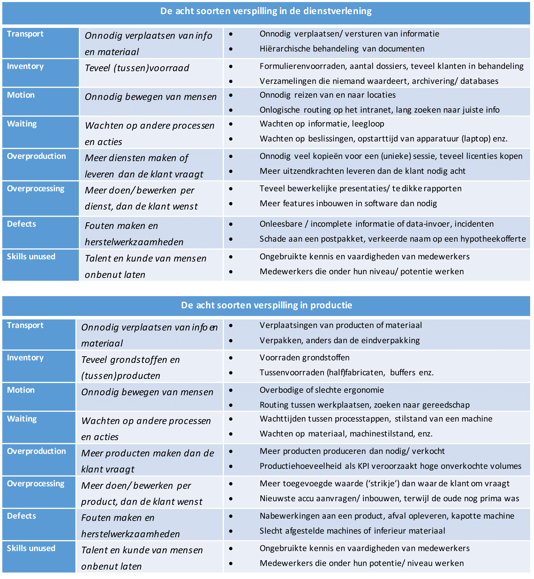 Voorbeeld
Hierna vind je voorbeelden van VERSTOPT uit de dienstverlening, zorg of (semi-)overheid weergegeven.