Doel
De betrokkenheid van de leiding bij het verandertraject door alle geledingen van de organisatie en op elk moment publiekelijk zichtbaar maken
In het kort
Succesvolle veranderinitiatieven vereisen gedurende de gehele cyclus van het verbeterproject of veranderprogramma, sterk zichtbaar en actief gecommitteerd leiderschap.
Toelichting
Leiderschap is altijd en overal van invloed. De sponsor, champion, proceseigenaren en teamleden leiden de verandering duurzaam door zich zichtbaar, publiekelijk en actief te laten vereenzelvigen met de verandering en met alles wat daarvoor nodig is.
Aanpak
• Leiders tonen gedurende de gehele projectcyclus voortdurend een hoge mate van betrokkenheid bij het veranderproject en de projectleiders
• Leiders hanteren dezelfde verandertools en termen als in het veranderproject worden gehanteerd
• Leiders nemen persoonlijk initiatief en dagen continu de status quo uit
• Leiders scharen zich publiekelijk zichtbaar en actief achter het verandertraject
• Leiders borgen de kwaliteit van hun aanpak door deze proactief te monitoren met behulp van het CAP Self Assessment
Synoniem en/of alternatief
In plaats van een Self Assessment of een andersoortige enquête, kun je als zichtbaarheid van gewenst leiderschap ook de beroemde agendatest doen (Time Audit). Actief een uur per dag, week of per maand bezig met de verandering, is een groot verschil. Ook het aantal bezoekjes, e-mails of blogs registreren van leiders op bepaalde plekken of afdelingen (visit report) kan helpen voor het bewustzijn in deze.
Duur
Voor de formele aanvang van het verandertraject tot ver daarna. Eerder jaren dan maanden.

Voorbeeld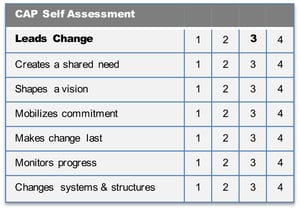 Met behulp van het CAP Self Assessment kun je de kwaliteit van de aanpak proactief monitoren. De huidige status geef je weer in een simpele vorm zoals de matrix hiernaast. Elke fase van het veranderingstraject krijgt een beoordeling op een schaal van 1-4. Die beoordelingsniveaus heb je omschreven in een aparte lijst, waar je hierna een voorbeeld van ziet. Eerst de ambitie van leiders gezamenlijk vaststellen, helpt realisme.