Doel
• Een meetsysteem beoordelen op precisie (specifiek: R & R)

In het kort
Een Gage R&R is een statistisch experiment om de precisie van een meetsysteem te toetsen.

Toelichting
Bij het toetsen op 'precisie', kijk je naar zowel de herhaalbaarheid (Repeatability) als reproduceerbaarheid (Reproducibility) binnen het 'gehele proces van meten'. Dit gaat vaak verder dan de naam Gage R&R doet vermoeden: gage (Engels) slaat op 'meetapparaat'. Concreet wordt de meetfoutvariatie ten opzichte van de totale variatie geschat. De Gage R&R is een relatief bekende tool binnen de wereld van de meetsysteemanalyse (MSA).
Onderstaande Gage R&R-prestatiematen zijn alternatieven voor de Kappa bij continue data.
Het zijn veelvoorkomende prestatiematen, met formules en bijbehorende criteria.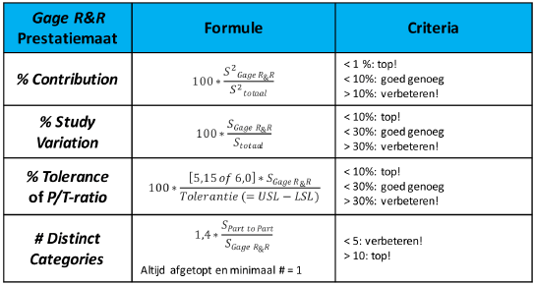 Aanpak
• Begrijp het meetsysteem kwalitatief (observeer en maak bijvoorbeeld een visgraat)
• Stel een datacollectieplan op met de uitvoerders
• Voer een Gage R&R-experiment uit
• Interpreteer de resultaten en vat deze samen, liefst grafisch of in tabelvorm
• Kwantificeer de precisie (bijvoorbeeld met '% contribution' of '% study var')
• Verbeter het meetsysteem indien nodig
Meer te weten komen over Gage R&R? Klik hier en schrijf je in voor de Green Belt training.
Synoniem en/of alternatief
Een meetapparaat in het Brits heet Gauge, terwijl je in de VS Gage typt (dus zonder 'u'). De meest gangbare Gage R&R heet ook wel (ANOVA) Gage R&R Crossed. Er zijn echter vele varianten, zoals een Gage R&R Nested voor destructieve metingen.
Duur
Reken minimaal enkele uren werk voor een Gage R&R, bijvoorbeeld in een laboratorium. Een meetsysteemanalyse uitvoeren kan ook enkele dagen werk zijn, zeker indien het de eerste keer is dat een Green Belt of Black Belt dit doet. In doorlooptijd kan het weken duren.