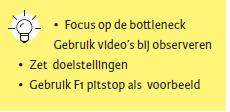 Doel
• Systematisch reduceren van omsteltijden in processen om stilstand te reduceren
• Daarmee vergroten van de beschikbaarheid en daarmee capaciteit van het proces
In het kort
Systematisch onderzoeken welke activiteiten uit het totale omstelproces verwijderd, verschoven of sneller gemaakt kunnen worden om de omsteltijden te reduceren. SMED is een afkorting van Single-Minute-Exchange-of-Dies'Single-Minute' staat voor 0-9 minuten en 'Die' is het Engelse woord voor 'mal'.
Meer te weten komen over SMED? Klik dan hier en schrijf je in voor de Green Belt training.
Toelichting
Door de totale omsteltijd te verkorten wordt stilstand van machines en mensen gereduceerd. Vooral nuttig bij een bottleneck in processen die hierdoor meer capaciteit krijgen. Zie ook Theory of Constraints, JIT en OEE. Doordat omsteltijden ten opzichte van bewerkings-tijden relatief korter worden is het sneller gunstig om kleinere batches in te plannen. Hierdoor worden, voorraden kleiner, waardoor de flexibiliteit wordt vergroot.
Om vergissingen te voorkomen: onder omsteltijd verstaan we de tijd die verstrijkt tussen het laatste goede product van een partij en het eerste goede product van de volgende partij.
Aanpak
De methode bestaat uit een iteratief proces van zeven stappen in een Kaizen-setting dat herhaald wordt totdat de doelstelling, bijvoorbeeld bottleneck is opgelost, is bereikt.
• Observeer het huidige omstelproces
• Scheid externe omstelactiviteiten, Externe activiteiten kunnen parallel aan het productie proces worden uitgevoerd. Interne activiteiten alleen als het proces stil staat
• Converteer interne activiteiten naar externe activiteiten en voer deze parallel uit
• Versnel de overgebleven interne activiteiten
• Stroomlijn de externe activiteiten
• Documenteer de nieuwe werkwijze en geef aan wat de volgende stap zou kunnen zijn
• Herhaal de aanpak. Verbeteringen van 20-50 % kan men elke keer verwachten
Synoniem en/of alternatief
SMED heet hier omsteltijdreductie en ook (Engels) setup time reduction. Alternatief is OTED: One-Touch Exchange of Die. Dit is hetzelfde als SMED, echter met de doelstelling om binnen 100 seconden of "One-Touch" in een beweging om te stellen.
Duur
SMED wordt typisch met een Kaizenaanpak uitgevoerd en kan een dag tot een week duren voor elke iteratie. Bij complexe processen kunnen meerdere iteraties nodig zijn.
Voorbeeld
Hierna is een uitwerking weergegeven van twee verschillende methoden: het gangbaar omzetten van banden bij een dienstverlener (bij de consument meestal) en bij de Formule 1.