Doel
Teambuilding door samen tijd te nemen om te genieten van het succes
Bedanken van alle betrokkenen
Presenteren van het project, inclusief de resultaten
In het kort
Bij grote én kleine successen stilstaan door deze samen met alle betrokkenen het
resultaat te vieren.
Toelichting
Een succes vieren hoeft niet altijd groot te zijn. In het Lean-gedachtegoed gaat het
juist ook om 'elke dag een klein stukje beter'. Wanneer er kleine successen behaald
zijn, dien je deze ook samen met je (project)team te delen en vieren. Dit doe je door
het onderwerp 'successen' als vast onderdeel in de dag- of weekstart terug te laten
komen en op het bord te zetten. Aanvullend kun je bij een groot succes of een behaalde
project mijlpaal, een speciaal evenement organiseren.
Aanpak
• Maak 'successen' een vast onderdeel van het dagstart-/weekstartbord, zodat
deze minimaal wekelijks worden besproken
• Voor een separaat evenement, plan een geschikt moment wanneer alle betrokkenen
kunnen, om successen samen te vieren
• Blik terug naar de resultaten die behaald zijn en hoe deze behaald zijn. Deel
ook de dingen die lastig waren om er samen van te leren (samen Continu
verbeteren)
• Bedank alle betrokkenen persoonlijk voor hun inzet en motiveer hen om hier
mee door te gaan
Synoniem en/of alternatief
In het Engels: celebrate team success, team event.
Duur
Tijdens de dagstart-/weekstart een paar minuten. Tijdsduur voor een evenement
kan erg verschillen en is afhankelijk van de teamwensen.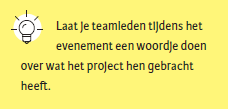 Voorbeeld
Teamborrel, team lunch of een 'succes van de week' visueel op de afdeling hangen.