Doel
• De capaciteit van het productieproces op de marktvraag afstemmen
• Knelpunten in het productieproces opsporen
• Wachttijden/leegloop (onbalans) in het productieproces opsporen
In het kort
De Takttijd-analyse is een managementmethode om snel te kijken of productie op het gewenst niveau acteert. De capaciteit en snelheid van het productieproces vergelijk je met het ritme van de klant (de markt). Het begrip Takttijd stamt uit het Duits (Taktzeit).
Toelichting
Takttijd-analyse is ontstaan in de jaren dertig van de twintigste eeuw, en is verder ontwikkeld in de jaren vijftig door Toyota. Gangbaar als afstemmingstool, en als basis voor JIT, om de werkvoorraad intern goed af te stemmen.
Leren maken van een Takttijd-analyse? Klik dan hier en schrijf je nu in voor de Green Belt training
Idealiter houden capaciteit en snelheid van stappen in een proces gelijke tred met elkaar, en met de marktvraag. Als klantritme en procesritme erg uit elkaar liggen, heeft dat of onderproductie (te lange levertijden) of overproductie (en dus onverkochte voorraden) tot gevolg. Takttijd-analyse helpt om zowel Mura (onbalans) als de traagste stap ofwel de flessenhals te duiden (Engels: Bottleneck). Stappen die langer duren dan de Takttijd, heten een knelpunt (Engels: Constraint).

Zowel duur (Takttijd) als snelheid (Taktsnelheid, Engels: Takt rate) komen als begrippen voor. Bedenk daarbij dat de duur van een stap idealiter (net) onder de Takttijd zit, en de productiesnelheid van een stap juist net boven de takt rate zit (net omgekeerd dus).
Aanpak
• Bereken de Takttijd van het product: dat is de werkelijke productietijd (P) per dag gedeeld door de gemiddelde omloopsnelheid (O) per dag: P/O. Corrigeer eventueel als het aantal productiedagen en het aantal verkoopdagen niet parallel lopen
• Bereken de tijd van elke productiefase apart: ideaal is het als alle productiefasen net onder de Takttijd zitten (houdt kortom rekening met wat variatie of een meetfout)
• Probeer daarna oplossingen te vinden om productiefasen die langer duren dan de Takttijd, in te korten (verspilling eruit). Kijk ook of je korte fasen kunt combineren tot de lengte van de Takttijd en ze door dezelfde medewerkers kunt laten uitvoeren
Synoniem en/of alternatief
We praten ook wel over capaciteitsanalyse (Constraint Analysis) of een Line/Process Balancing Chart. Met een Value-Add Analyse erbij, zoals het voorbeeld hierna, heet het ook wel een Time Value Analysis. Kan gebruikt worden als alternatief voor een Time Value Map (behandelen we hier niet).
Geïnteresseerd in het implementeren van een Takttijd-analyse? Klik dan hier en schrijf je nu in voor een van onze traningen!
Voorbeeld
In een deelproces zijn hierna bewerkingstijden per eenheid op afdelingsniveau weergegeven in een staafdiagram, inclusief de Takttijd. De Takttijd is hier 15 seconden.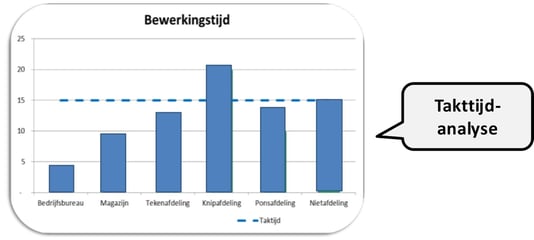 De traagste stap is hier het knippen. Zowel de Knipafdeling als de Nietafdeling kan hier voor vertraging zorgen (zijn knelpunten). Ook is er sprake van een flinke onbalans. Het volgende diagram, met een Value-Add Analysis erbij, geeft nog meer inzicht.