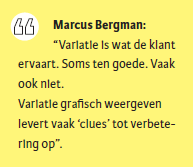 Doel
Inzicht geven in zowel ordegrootte als spreiding van een indicator in de tijd

In het kort
De tijdreeksgrafiek geeft de ontwikkeling van een indicator of variabele in de tijd weer. Zo krijg je inzicht in ordegrootte, variatie en patronen in de tijd.
Toelichting
Een tijdreeks is een reeks waarden die geordend in de tijd is weergegeven (vaak met een vast tijdsinterval, zoals wekelijkse waarden). Een tijdreeksgrafiek is dus een grafische weergave hiervan. Deze populaire grafiek helpt om patronen in de tijd (trends) te zien, te begrijpen en om zelfs (uiteindelijk) de toekomst te voorspellen. Een tijdreeks wordt heel breed ingezet: voor zowel continue data als tellingen of gesommeerde of gemiddelde data. Voor discrete data gebruik je meestal een staafdiagram (in de tijd).
Meer te weten komen over de Tijdreeksgrafiek? Klik dan hier en schrijf je in voor de Green Belt training.
Aanpak
• Orden de data van de indicator in de tijd*
• Geef de uitkomsten van de indicator weer op de Y-as, en de tijd weer op de X-as
• Gebruik pen en papier, een whiteboard, (statistische) software of een app
* afhankelijk van de steekproef is dit niet altijd mogelijk! Denk aan een eenmalige poll
Synoniem en/of alternatief
Een tijdreeksgrafiek heet ook wel een (tijd)specifieke lijngrafiek of lijndiagram. In het Engels: time series plot of line chart.
Een alternatief is bijvoorbeeld een Control Chart of regelkaart (lees: een tijdreeksgrafiek met statistische regelgrenzen (control limits)).
Duur
Met specifieke software maak je deze grafiek in een (fractie van een) seconde.
Voorbeeld
Hierna zie je het aantal verstuurde pakketjes van een van de locaties van een logistieke dienstverlener, weergegeven in de tijd. Elke week is het percentage weergegeven voor een compleet jaar.

Hieronder de KPI OEE (info over OEE, zie hoofdstuk Control) op een machine over twee jaar.