CAP Model



Making Change Last
Doel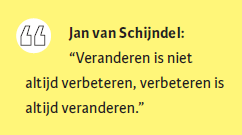 Het verankeren van de verbeterde situatie inclusief gedrag en cultuur.
In het kort
Zodra de verandering start, begint ook de verduurzaming. Het verankeren is namelijk niet louter gericht op het gekwantificeerde resultaat maar juist op de sterk verbeterde cultuur.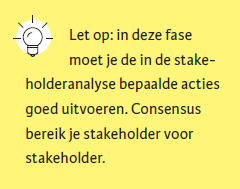 Toelichting
De verandering vormt een integraal geheel met alle aspecten binnen een organisatie. Door quick wins uit te voeren, te benoemen, te delen en aan te moedigen, krijg je momentum voor de verandering. Deel ook de iets grotere best practices publiekelijk en centraal binnen de organisatie. Zo zorg je dat medewerkers 'trots' zijn, wat een borgend effect heeft.
Aanpak
• Ontwikkel een visueel communicatieplan waarbij je de relatie tussen de actualiteit en de te bereiken doelen zeer helder uitlegt. Elimineer zo mogelijk verkeerde aannames en mythes. Accentueer de bedrijfscultuur met actuele praktijkvoorbeelden en foto's
• Zorg voor een podium voor het delen van best practices en verbeterinitiatieven; organiseer bijvoorbeeld sit ins en go and see's
• Ontwikkel trainingsprogramma's waarbij de inhoud en het trainingsmateriaal naadloos aansluiten op de doelen van de verandering, de cultuur van de organisatie en de behoeften aan benodigde kennis en kunde van de medewerkers met betrekking tot de verandering.
Synoniem en/of alternatief
Kennismanagement, Force Field Analysis.
Voorbeeld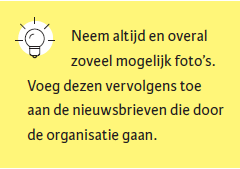 In het DMAIC hoofdstuk Control beschrijven we de Responsibility Matrix/RA(S)CI als methodiek om taken en verantwoordelijkheden bij werkprocessen en activiteiten op individueel niveau toe te wijzen en dit visueel inzichtelijk te maken. Maar deze methode is ook heel bruikbaar voor de ontwikkeling van een communicatieplan.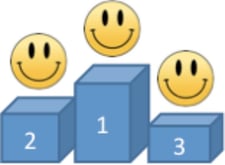 Best practice sharing bestaat in verschillende vormen. Plaats bijvoorbeeld in de wekelijkse nieuwsbrief een klein positief stukje over een groepje medewerkers dat op eigen initiatief een kleine verbetering heeft gerealiseerd. De positieve aandacht die je zo aan deze medewerkers geeft, stimuleert andere medewerkers ook om in actie te komen.
Andere voorbeelden van best practice sharing zijn sit-ins en go and see's. Bij een sit-in woon je als medewerker of leidinggevende eens een overleg of workshop bij, om te kijken hoe die gehouden wordt, zodat je hiervan kunt leren. Een go and see lijkt hier erg op, maar dan in de vorm van een rondleiding. Wat ook erg goed werkt, is bijvoorbeeld een manager van een andere afdeling die ook aan de slag wil binnen het verbetertraject maar nog niet goed weet hoe, uit te nodigen voor een rondleiding en hem aansluitend een overleg te laten bijwonen. Wedden dat hij helemaal vol van ideeën terugkomt op zijn eigen afdeling?