Doel
• De verschillende manieren van borging vergelijken op effectiviteit

In het kort
Er zijn vier methoden om te zorgen dat voortaan op de 'nieuwe' manier wordt gewerkt.
De borgingspiramide geeft inzicht in de effectiviteit van elke methode. Hoe
hoger in de piramide, hoe effectiever. Ideaal is natuurlijk als je een proces zo kunt
inrichten dat het niet meer fout kán gaan.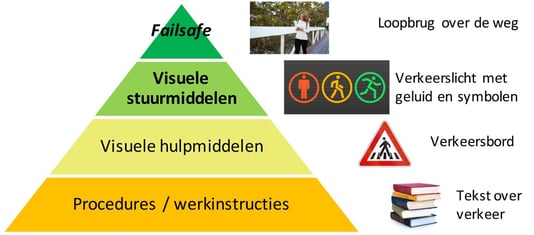 Toelichting
• Het laagst in de piramide staan de procedures en werkinstructies. Niet dat
je die niet moet hebben, maar de ervaring leert dat (digitale) boeken met instructies
vaak op een plank staan te vergelen. Immers, een minderheid leest
boeken in de actie
• Een niveau daarboven vind je de visuele hulpmiddelen. Denk bijvoorbeeld aan
borden met aanwijzingen en waarschuwingen, zeg maar: verkeersborden.
Maar borden alleen geven nog geen garantie dat ze worden gerespecteerd.
Bovendien kun je ook niet de hele werkplek vol hangen met bordjes met aanwijzingen
• Effectiever zijn visuele stuurmiddelen, zeker als ze ook met geluidssignalen
worden ondersteund. Denk aan spoorbomen, zwaailichten en sirenes. Of – bij
Lean Six Sigma – aan kanbans. Die vormen een actievere en dwingender manier
van signaleren. En ze staan dan ook op de een na hoogste tree van de piramide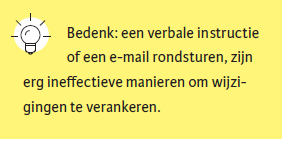 • Failsafe is natuurlijk de meest effectieve manier om je proces te borgen. Dan
heb je je proces zo ingericht dat het maar op één manier kan verlopen: de
354 Samenzinnig verbeteren
goede. De Poka Yoke-manier. Dat kun je bereiken door fysiek ontwerp, maar ook door het ontwerp van de procedure, waarbij stap 2 pas werkt als stap 1 is afgewerkt.
Meer te weten komen over de borgingspiramide? Klik dan hier en schrijf je in voor de Green Belt training.
Aanpak
• Brainstorm over borgingsmogelijkheden. Dit heb je mogelijk al in de vorige fase gedaan (Improve). Maar bedenk dat voortschrijdend inzicht in het team kan aangeven, dat het borgen nog beter kan
• Zet in een diagram de mate van beheersing (het niveau in de borgingspiramide) af tegen de moeite/geld die het kost om die in te voeren
• Discussieer met een groep over de plaats van de verschillende borgingsmethoden (Poka Yoke; Standard Operational Procedure; Statistical Process Control; Visual Management; Werkinstructies) in de matrix
• Kies uiteindelijk de oplossing met het meeste effect tegen de geringste moeite
Synoniem en/of alternatief
De borgingspiramide is niet alleen onderdeel binnen Lean Six Sigma, maar ook onderwerp binnen veiligheid of risicomanagement.
Duur
Het kiezen van de juiste borgingsmethode, kan in een brainstormsessie van een uur gedaan worden. Het uitwerken ervan hangt sterk af van wat je kiest. Het invoeren van een extra Poka Yoke in een workflow managementsysteem kan in enkele dagen gebeuren.