Doel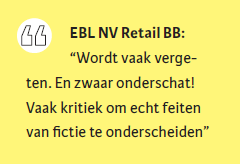 • Een goede teamcommunicatie bij datacollectie
•Detailbeschrijving van alle benodigde data, om accuraat en precies te verzamelen
In het kort
Een datacollectieplan is feitelijk een actieplan om data te verzamelen. In elk geval bepaal je wie wat en wanneer meet en/of verzamelt.
Toelichting
Een datacollectieplan is een specifiek actieplan voor het verzamelen van data. In de praktijk neem je vaak in een workshop de kolommen door uit een template. Inhoudelijk per kolom: welk type data, de operationele definitie, welke 'databron', steekproefgrootte en meetperiode, wie, wanneer klaar, hoe, databetrouwbaarheidsbepaling, et cetera.
Meer te weten komen over het Datacollectieplan? Klik dan hier en schrijf je in voor de Green Belt training.
Aanpak
• Verzamel de representanten van een te verbeteren proces
• Brainstorm over wat relevant is om te meten en maak je keuze
• Vul samen de kolommen 'wat', 'wie', 'wanneer' en eventueel aanvullende zaken, zoals 'definitie', 'uit welke bron', enzovoort, op een flip-over of in een Excel-template (gebruik dan een beamer)
Synoniem en/of alternatief
Een datacollectieplan heet ook wel dataverzamelplan of kortweg meetplan. In het Engels heet het data collection plan of measurement plan. In eenvoudige gevallen – voor één of enkele indicatoren – volstaat vaak (flip-over)papier of een 'turfstaat'.
Duur
Ook als iedereen is voorbereid, ben je samen toch gauw een half uur tot een uur bezig.

Voorbeeld
Onderstaand voorbeeld gaat over een te verbeteren mutatieproces. Het (Engelstalige) template is deels in een workshop ingevuld en deels achteraf.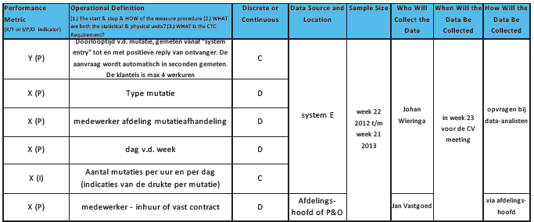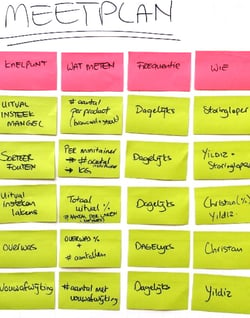 In een workshop kun je ter plekke een meetplan of actieplan globaal invullen. Hiernaast is een meetplan uit een workshop binnen een grote wasserij weergegeven.
Men wilde hier de kwaliteit van de wasserij op meerdere plekken in het gebouw/proces verbeteren. Heel veel gegevens, zoals het aantal sorteerfouten, waren nog niet aanwezig.