Doel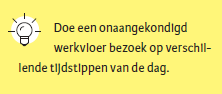 • Het proces op de werkvloer zien, horen en begrijpen
• Identificeren van problemen, verspillingen en verbetermogelijkheden en medewerkers leren dit zelf te herkennen
• Aanbieden van ondersteuning vanuit het management aan de werkvloer bij het oplossen van problemen en doorvoeren van verbetermogelijkheden
In het kort
Bezoek brengen aan de werkvloer en met eigen ogen zien hoe het werk gedaan wordt.
Meer te weten komen over Go To Gemba? Klik dan hier en schrijf je in voor de Green Belt training.
Toelichting
Gemba betekent in het Japans: 'de echte plek'. Gemba refereert aan de werkvloer, daar waar de waarde gecreëerd wordt. De filosofie achter Gemba is dat je 'zo dichtbij als mogelijk probeert te komen' alvorens je een oplossing aandraagt. Tevens toont het management hiermee zijn betrokkenheid aan de medewerkers.
Aanpak
• Zie: bezoek een werkplek waar de waarde wordt toegevoegd en observeer of je afwijkingen, of de 8 vormen van verspilling kunt constateren (zie TIMWOODS)
• Hoor: stel open, verdiepende vragen en toon betrokkenheid bij de medewerkers
• Begrijp: koppel je observaties terug aan de betrokkenen door een 'Gemba sheet' te maken (zie volgende pagina voor een voorbeeld)
Synoniem en/of alternatief
In het Engels: 'Go & See' , 'Gemba walk' , 'Gemba visit' , 'Management bij walking around'. Ook kan nog de Genchi Gembutsu-methode genoemd worden van Taiichi Ohno: coachees dienden in een door hem getekende krijtcirkel staand te observeren. Indien ze na een tijdje nog niet veel zagen (geen of weinig verspilling of pijnpunten, et cetera), dan mochten ze nog wat langer blijven staan. Noot: Gem in het Japans, kan ook als Gen geschreven worden (dus: Genba is ook gelijk aan Gemba).
Duur
Het doen van een observatie kan sterk variëren. Je kunt een korte observatie van circa 30 minuten doen en indien men een 'Gemba walk' doet, kan dit een dag(deel) duren. Het is belangrijk om het bezoek onaangekondigd, en op verschillende tijdstippen van de dag te doen, zodat je de werksituatie daadwerkelijk aantreft zoals het gebruikelijk is.
Voorbeeld
Hieronder zie je een voorbeeld van een 'Gemba sheet' van DHL voor de vastlegging van observaties op de werkvloer.